Kitesurfing in Dakhla the ultimate guide
When we talk about Dakhla, we think about the kitesurfing mecca in Africa for all of the European kitesurfers! It's a paradise for kitesurfing, with wind all year round, dunes, and water as far as the eye can see, and finally it's paradise only a few hours flight from home!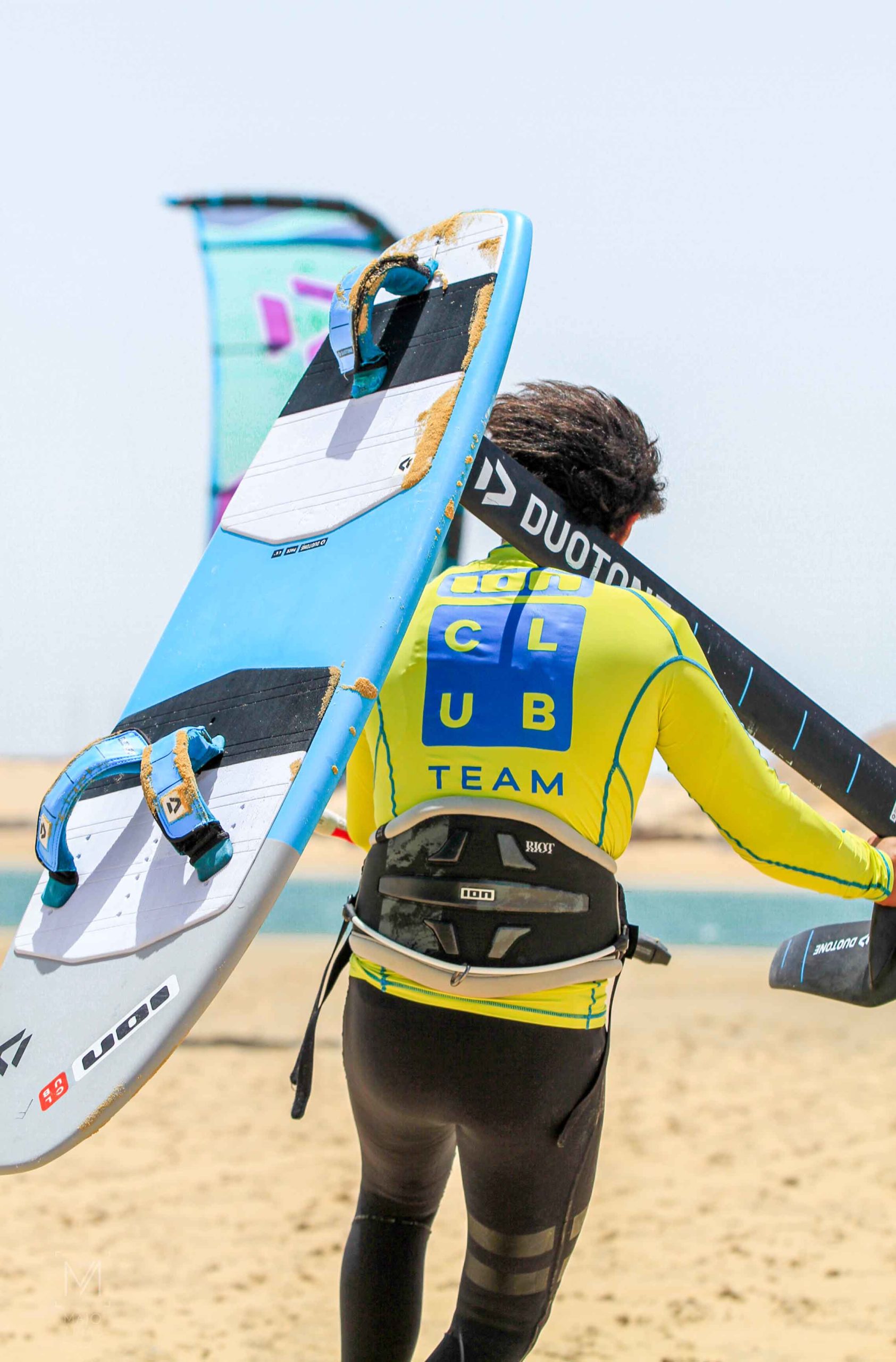 How to get to Dakhla?
Organising a kitesurfing holiday in the south of Morocco, Dakhla, is within everyone's reach as there are many flights and accommodation options.  Dakhla offers the possibility to get there quickly thanks to its airport located 1 hour from the lagoon; or 20 minutes from the kite spots on the ocean coast. Royal Air Maroc offers a direct flight from Paris Orly every Tuesday, while on other days of the week and at weekends you will have to make a stopover in Casablanca or Agadir on the same day. Allow around 8 or 9 hours travel time from your European airport to your accommodation in Dakhla if there is a stopover, and much less if your flight is direct.
The hotels and kite camps are well known, each one organises its own airport transfers once you arrive at Dakhla airport, no matter the time! Indeed, many Casablanca to Dakhla flights arrive very late, time to get a good night's sleep, and the next morning will be all the better for admiring the scenery and your new playground filled with exceptional light, somewhere in the Western Sahara.
What is the best time to kitesurf in Dakhla?
Kitesurfing in Dakhla is the dream of a multitude of kitesurfers, both beginners and advanced. The kitesurfing spot on the lagoon is magical as the conditions are so easy with an almost omnipresent wind all year round, and a body of water that is sometimes smooth, sometimes slightly choppy. The wind will be stronger and more regular depending on the time of year, but it is rare not to touch the water during a well-deserved week of holiday.
Go between May and September for stronger wind and with almost a guarantee that it will blow every day. On the contrary, the winter wind is milder but often makes an appearance to satisfy.
Temperatures are obviously cooler from November onwards, so bring a jumper and trousers for your evenings, but it is never cold and with very little rain. 
For wave lovers, choose Lassarga, it's THE kitesurfing spot on the ocean just a few minutes from Dakhla town! Waves are very present from November to April, so come and discover this magnificent long straight. That's not all, a part of the lagoon a few minutes away by 4*4 from the kite camp Océan Vagabond is also worth a visit …the ION CLUB centre will help you to discover it with great pleasure
What are the best kitesurfing spots in Dakhla?
There are many spots near Dakhla. The best known being the lagoon where many kite camps have been set up such as the ION CLUB lagoon kite school and the Lagon Energy kite camp – formerly Océan Vagabond Dakhla lagoon. The lagoon is certainly one of the best places in the region for beginners, intermediate levels or freestylers to practice tricks and jumps. The organisation of mini-trips such as to the white dune or the speed spot are affordable for any independent kitesurfer, and there are also breathtaking downwinders!
Lassarga is a lesser known spot for wave fans, making it a less popular and therefore quieter spot. ION CLUB has been established there for a few years in order to offer a quality service to all its riders and visitors.
Of course, other kitesurfing spots are amongst the best and have been discovered more recently, such as Turtle Bay or El Argoub, much further south from the most famous part of the lagoon. These are also worth exploring.
There is not really a best kite spot in Dakhla, each one has its characteristics … ease of navigation, flat water or waves, wind orientation of the wind etc. There are so many parameters making the region of Dakhla rich in kite spots, and so there is something to do for everyone.
Which kitesurfing club to choose in Dakhla?
It is difficult not to find a kitesurfing club in the Dakhla area, especially around the lagoon. All of them without exception will offer you kite lessons, private or in groups, mostly in French or English. For those who are too lazy to bring their own kitesurfing equipment from Europe. or who want to try out new equipment, kitesurfing rental is available in each centre. There is also storage  with security on the spot for kitesurfers who don't want to part with their favourite kites and boards.
At the ION CLUB kite centre, you will kite with the latest Duotone equipment. The advantage of this centre is that it also offers windsurfing and wingfoil. It is located at the end of the lagoon with a little less water, but this is reassuring and builds confidence for the less experienced kitesurfers. For the more experienced kiters, just put in a few tacks and you're in the heart of the lagoon.
Two kilometres further south are the Dakhla Club, PK25 and Dakhla Attitude hotels, the latter being the pioneer of the lagoon, each with their own kitesurfing schools. The lagoon is a bit deeper on their part but the riders are more numerous.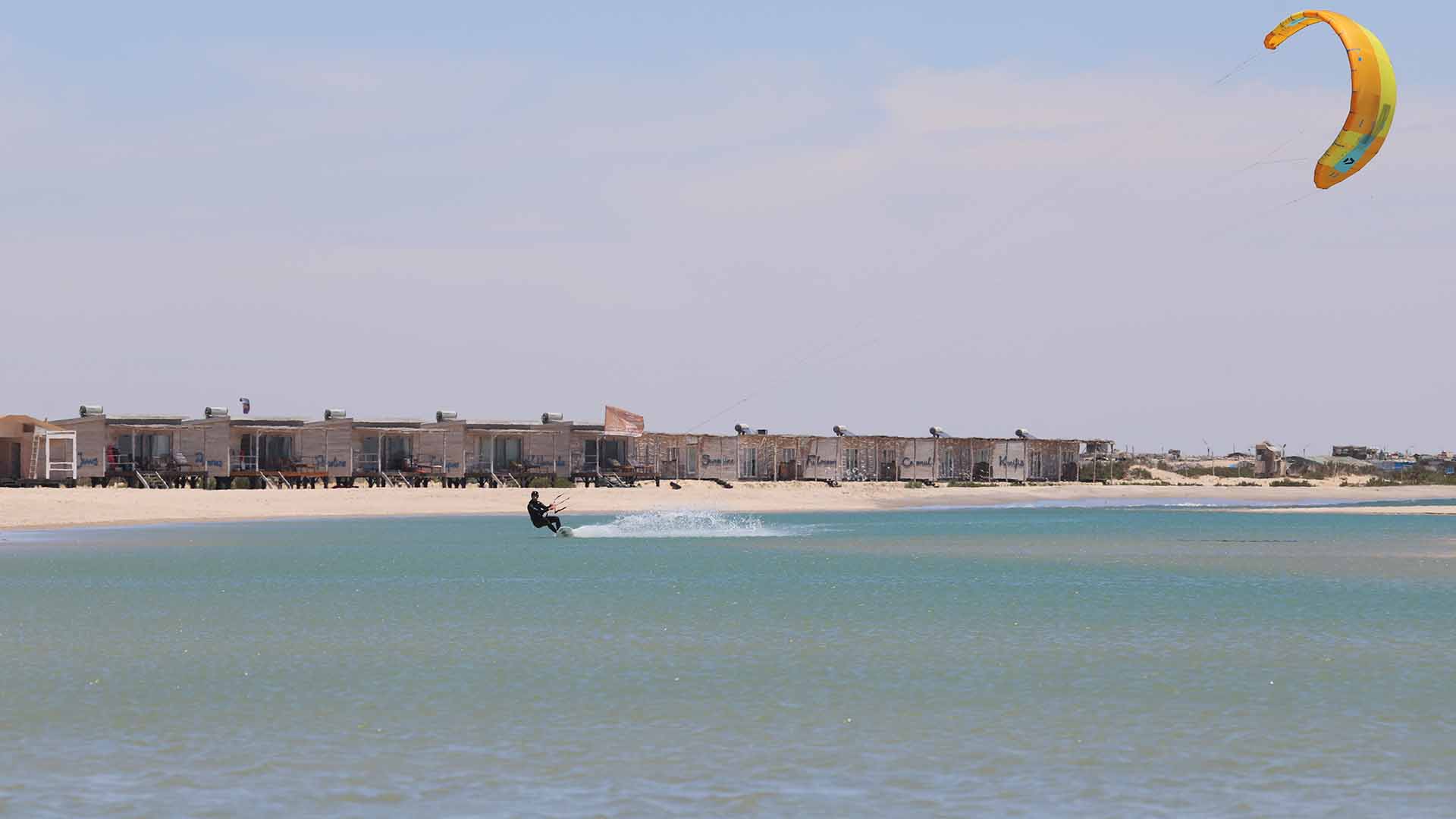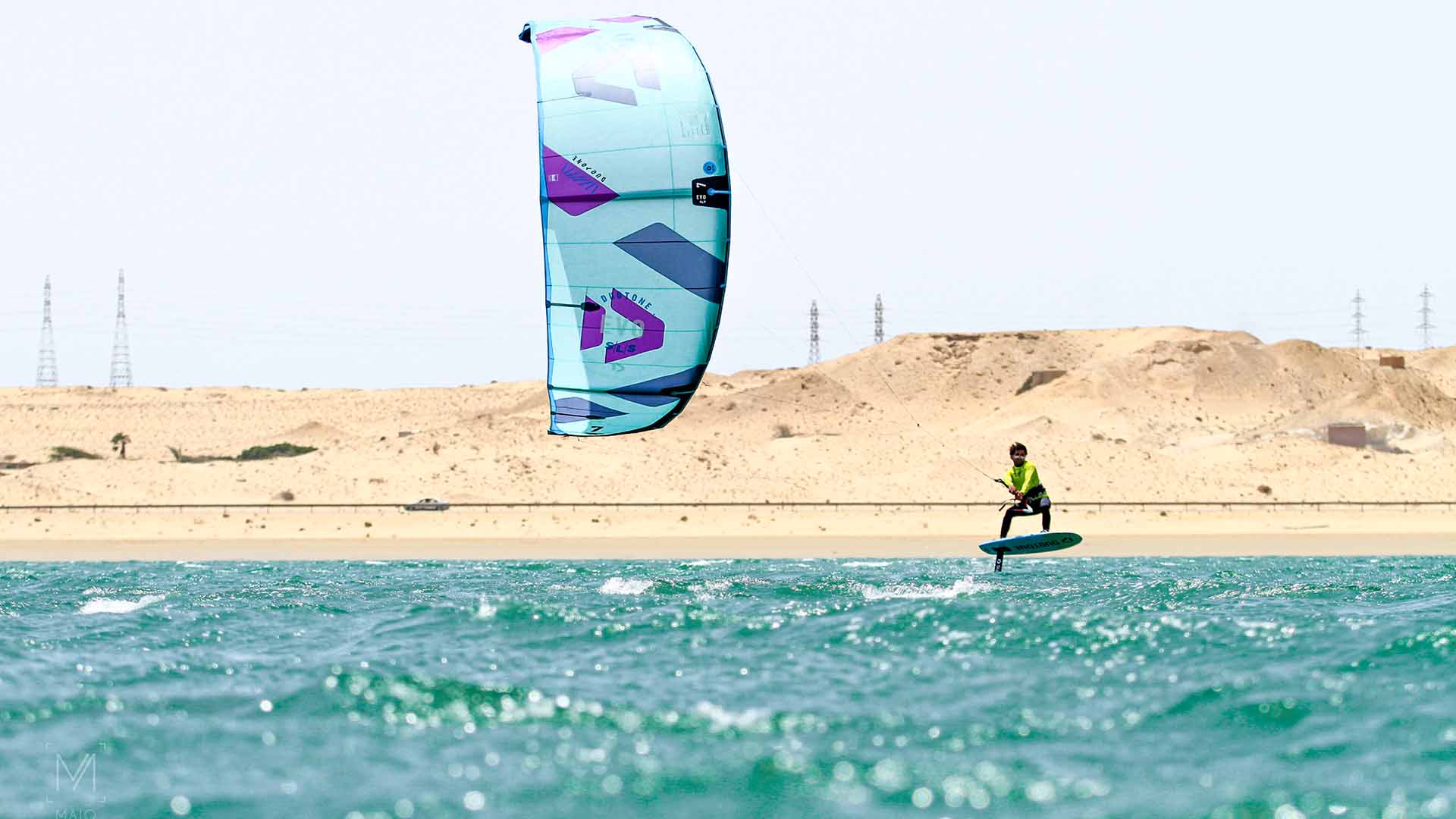 Where to sleep in Dakhla? Our advice for accommodation
Choose Lagon Energy on the lagoon for a kitesurfing holiday with your partner or family, tranquillity is priceless! The staff are very attentive to each person in the hotel, and the garden lined with plants and shrubs is very soothing. The eco-lodges are well separated from each other, each one has its own little corner of intimacy, and in a few steps you are directly at the ION CLUB centre and on the kite spot. Yoga, gym, spa, nothing is missing!
Still on the lagoon side, other hotels and kite camps will welcome you. Dakhla Attitude for the group of friends who want to extend the evening by enjoying delicious cocktails almost on the beach in its lounge bar. Or PK 25 for their bungalows with a breathtaking view of the lagoon. Dakhla Club for those accompanying the riders or for the riders themselves who want to take a dip in the hotel pool … and many other accommodations!
Heliophora is the only kite camp on El Argoub beach, with a spot just for you and eco-lodges at a very competitive rate. Or the hotel La Tour d'Eole in Turtle Bay for lovers of semi-gastronomic cuisine and a spot as beautiful as it is preserved.
Finally Océan Vagabond Lassarga for being in perfect harmony with the ocean and staying in sumptuous eco lodges with your feet in the water.
Every hotel and surf camp in Dakhla automatically offers full board so you don't have to worry about any meals.
The best activities in Dakhla
Apart from kitesurfing and windsurfing, the region of Dakhla has developed little by little on multi-activity. On the ocean side, you can of course surf or stand up paddle in the waves.
On the land side, to occupy your days without practising your favourite sport, awaken your senses with a yoga session in the morning, then take a walk through the countless dunes of the Sahara … or on a mountain bike, camel or quad. To extend the day, treat yourself to a thalasso to relax easily. 
If you have never set foot in this beautiful Moroccan paradise, whether you are a beginner or an experienced kitesurfer, don't wait any longer because many others have made it a Dakhla spirit!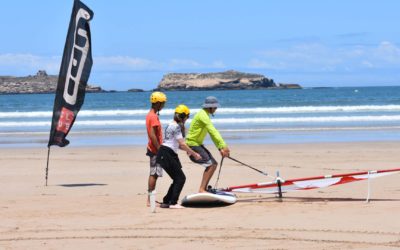 Windsurfing courses in Essaouira - which club to choose?Morocco, and in particular Essaouira and its surroundings, reveals many spots for surfing enthusiasts. It is difficult to get bored after surfing, kiting or windsurfing as the city, formerly called Mogador, a...