The Best of Surfing Elements
Location : Karpathos, Greece
Season : May 2022 till october 2022
Opening hours: Daily 9.30 am – 06.00 pm
Deserted beaches, idyllic mountain villages and cozy tavernas - this is Karpathos. The charm of the island is her virginity and originality. Karpathos is located on the eastern South Aegean island arc and is 46 km South-West of Rhodes. For many years, Karpathos has been a destination magnet for windsurfers returning year after year, thanks to the wind record.
Come in summertime and you will find everything surfers hearts wish for! The island stretches between Rhodes and Crete, and the Meltemi blows from the north through the high mountains.
High wind days in July and August are the rule rather than the exception. However, in May, September and October steady winds also delight many windsurfers. A partially pine-wooded mountain range crosses the island from the north to the middle. While altitudes above 600 meters can be found in the north, Kali Limni rises up to a height of 1,215 meters in the central island area.
These are some of the highest elevations of the Dodecanese which are usually laced with trails and gravel roads. This was an important reason to open a ION CLUB Mountain Bike Center, so now our guests have the opportunity to explore the island with the latest SCOTT Mountain Bikes.
WE OFFER THE BEST SERVICES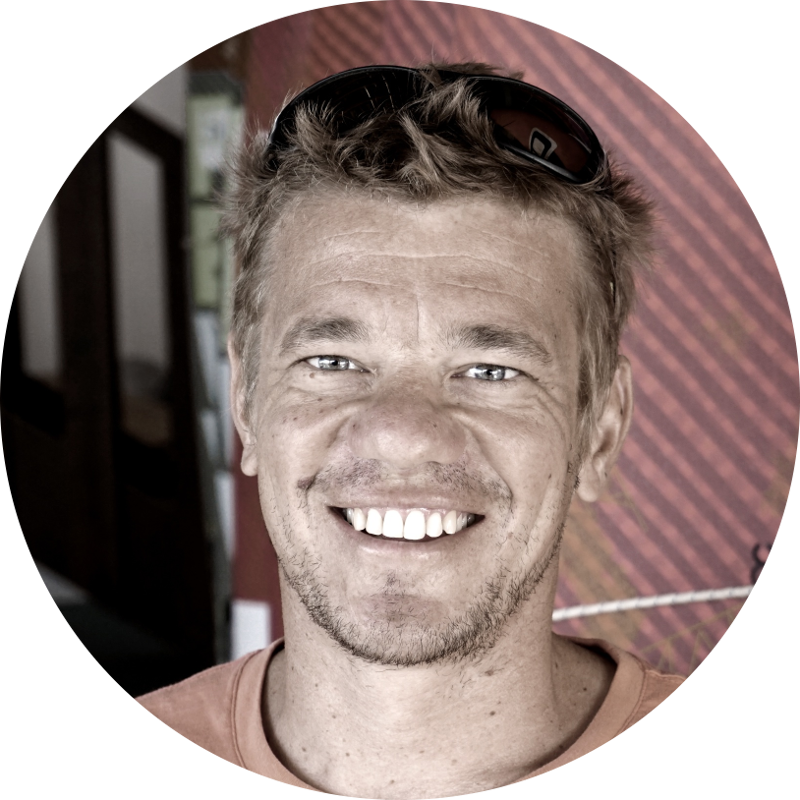 "ION CLUB Karpathos is one of the best windsurfing destinations to me because the wind keeps blowing. The choice of two centers caters for beginners to advanced windsurfers and the quality of the equipment together with the friendly reactive services from the team make all the difference.

For the more adventurous mountain-biking and rock-climbing is also available just to make sure you are getting your adrenaline fix.

The authentic Greek Island of Karpathos with its crystal-clear turquoise waters, its multitude of amazing beaches and its remote traditional villages is a gem to explore. Ancient hiking trails are an amazing way to discover the island and local tavernas offering traditional Karpathian cuisine will satisfy even the most demanding culinary tastes. All these factors together with our on-site award-winning restaurant, `Anemos~, which serves ethnic cuisine from all over the world make up the perfect windsrfing destination."
Gun Bay is a true high-wind spot where you can let off steam and forget the rest of the world. The flat water near the shore is perfect for practicing jibes and the spit off the coast guarantees your safety. Those who are looking for a real challenge can surf out of Gun Bay to Paradise Bay – a bay which definitely deserves its name. Here the wind is about 1-2 Beaufort stronger and the perfectly flat water delivers superb blasting conditions.
ATTENTION – INFO FOR KITESURFER
For safety reasons kitesurfing is not allowed during the opening hours of the windsurf centers from 9:30 till 18:00. in all three surf-bays.
Family and kid friendly, this Horseshoe shape and Sandy beach called "Chicken Bay" offers ideal conditions for beginners, intermediates and freestylers, due to an 80 meters wide shallow water areas. In Chicken Bay the wind also blows cross offshore but with 1-2 Beaufort less force.
Definitely the windiest of the three bays. You will ride there very small equipment, as the most common equipment is FreeWave 86 litres with a duotone 4.2m² sail. Also, the flat-water areas upwind in the bay or at the function with gun bay will be great spots for practising your jibes, tacks, or any freestyle moves. Lower in the bay wind-wave and ramps will help you to learn and control your jump higher and higher pushed by the wind.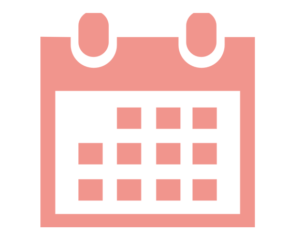 BEST PERIODS
May for relaxed wind, beginner or foiling, empty bays, enjoying mountain biking
June for the wind getting stronger, long day light
July and August: for the strong and the guarantied wind, energy full atmosphere in the Club
September: good wind, warm water, more biking and discovery possible
October: for an easy wind, foiling, beautiful biking, relaxing island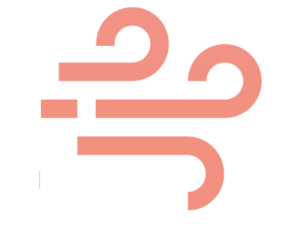 WIND
The meltemi is a summer wind which blows across Greece and the Aegean Sea from May till October with its peaks during July and August. Due to the hills configuration in Karpathos the wind is accelerated which explain why the wind is so strong and so often in Devil's Bay (4 to 8 beaufort). Also, as Chicken Bay is more on the side of this wind channel, you will get 1 to 2 beaufort less in this bay. The wind comes from North-West and blows offshore from the left.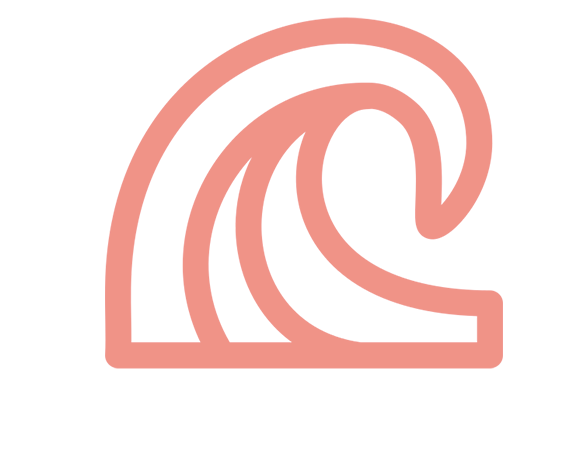 WAVES
Bump & Jump conditions at Gun Bay, no shorebreak, chop up to 1 meter in strong wind about 500 meters from the shore, good for jumping, no wave riding. Flat water at Chicken Bay and Devil's Bay.
From Karpathos airport
Karpathos has a pretty large airport which has direct flights to a surprisingly large number of European cities. ION CLUB Karpathos is located just 500m from the airport. As soon as you leave the airport you take the first right and then just follow the sign.
The port is located about 12km from the ION CLUB Karpathos center and is situated in the main town of the Island which is called Pigadia. The Island is linked by ferry to Athens,Crete and Rhodes. From the port just follow the sign to the airport and then turn left just before the airport. The signs will show you the rest of the way.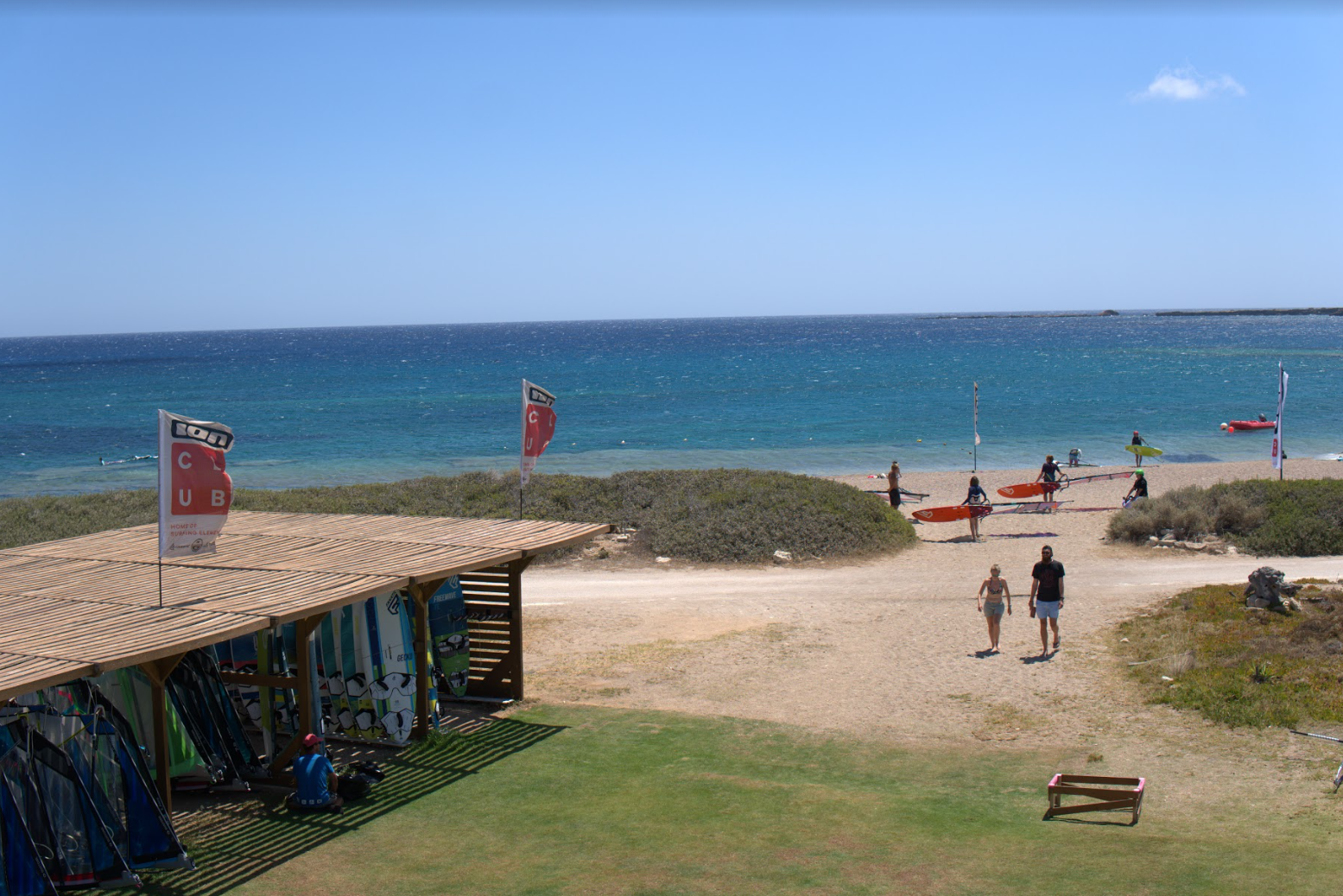 WHAT TO DO AROUND KARPATHOS?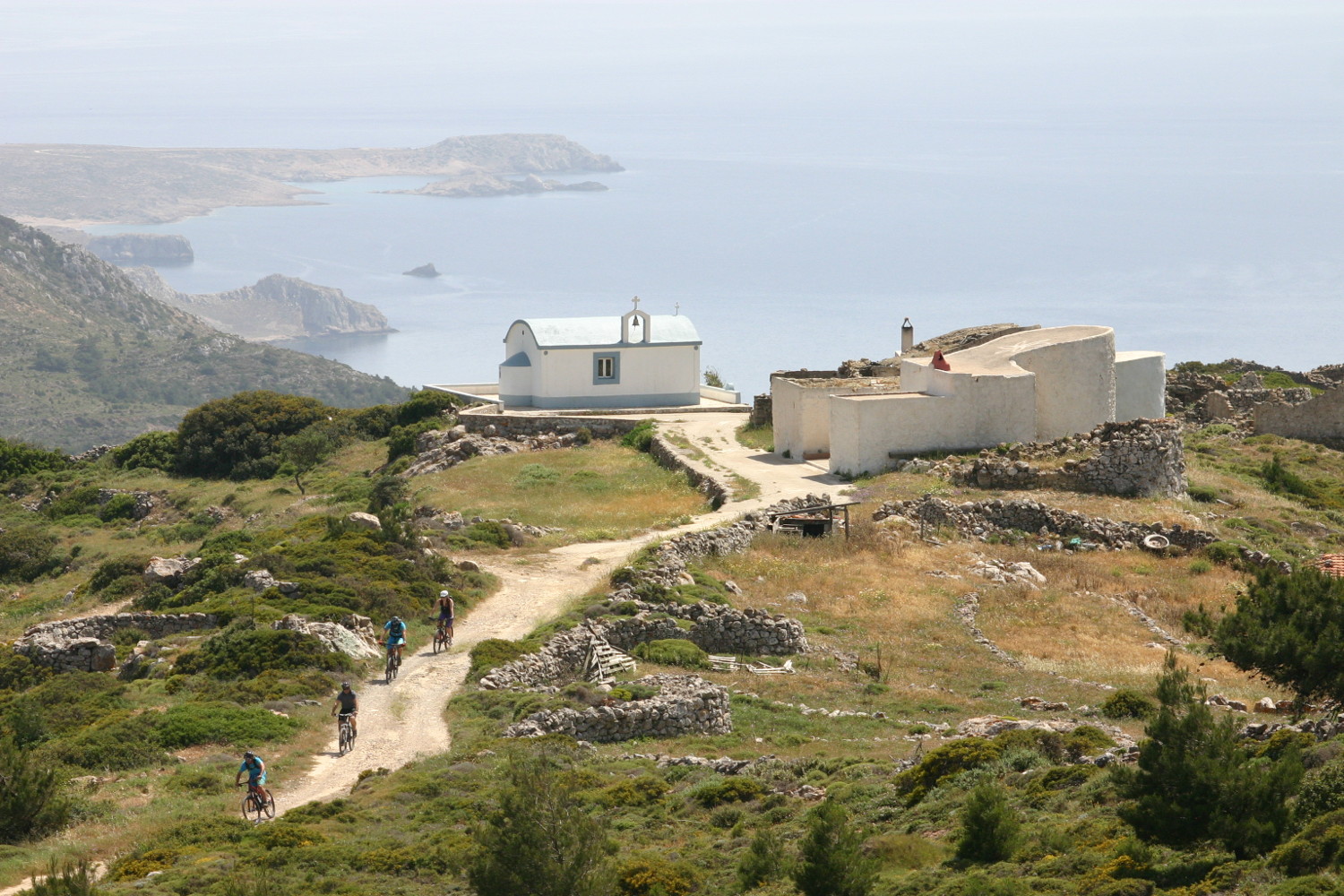 Karpathos is a mountainous island surrounded by the beautiful waters of the South Aegean. Vegetation includes scattered forests of pine trees and low hardy bushes of delightful aromatic herbs such as sage, oregano and Thyme. The northern sector of the island is a protected area as certain species of flora and fauna, both on land and in the sea, are endemic of Karpathos. The island is 50km long and 11km wide at it`s widest point. Kali Limni is the highest mountain and stands at 1215m. This makes the perfect place for mountain-biking and our very own Scott Bike center offers both hardtail and full suspension bikes for rental or you can also join a guided excursion with our experienced guide.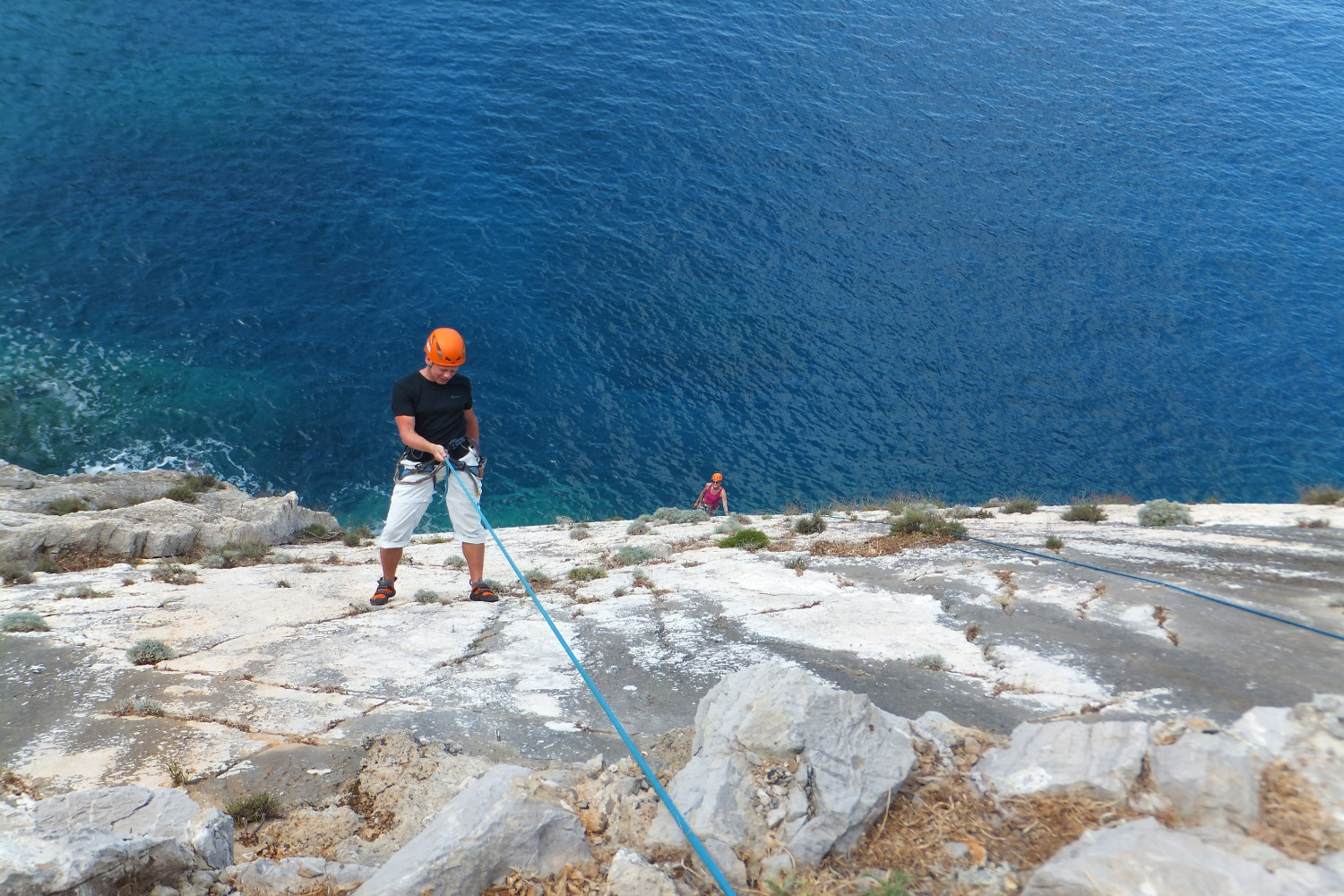 CLIMBING / SCUBA DIVING / TRAIL / YOGA 
Karpathos is also growing into a well-known rock-climbing destination. The sharp contrast of jagged cliff faces hanging over the clear waters will take your breath away. We offer guided climbing excursions for all levels of climbers. There are various spots covering a range of climbing difficulties, all of which are sport climbing routes, which means they are already prepared with bolts and abseiling points on the top. Most of the rock is lime stone which provides a perfect climbing experience. The island has a large network of ancient trails used for communication before any roads were built. Most of these are well marked and offer the most amazing hiking trails. The clear waters of the Aegean offer perfect scuba-diving and snorkeling conditions. Organized scuba-diving excursions are offered in the main town of Pigadia. For those wanting to exercise in a more serene setting we offer beach Yoga right in front of our center.
The Village of Olymbos in the north of the island can best be described as a living museum and is a must to visit. There are 11 villages spread out all over the island and each one has its own characteristics and is definitely worth seeing. Also, the incredibly numerous beaches will delight you, there are more than you can visit on one holiday.
The uninhabited island of Saria to the north of Karpathos makes for a great boat excursion. Here ruins of one of Karpathos`s 4 main villages in ancient time are visible and worth seeing , as are the underwater caves and beautiful beaches.
Kasos, an island of about 300 inhabitants located south of Karpathos is also an interesting day excursion.
A story of pioneer since 1985
The story of the ION CLUB tells of people who have turned their passion for windsurfing and kitesurfing into a profession. Since its founding in 1985, customer orientation, team spirit, innovation and professionalism have been the top priorities of our corporate philosophy.
The ION CLUB / Club Mistral has gained a lot of experience in the 38 years of its existence and has developed more and more into a company that focuses on communicating with guests and fulfilling their needs and wishes.
With 17 water sports schools worldwide, we are one of the leading companies in this field. ION CLUB has a network of international partners in different countries. We strive to be international and multicultural and express this through the selection of our employees, who currently come from 24 different countries.
Frequently asked questions 

?
Which equipment do you have?
We have almost the full range of Fanatic boards and Duotone sails. Boards are available from 60 litres wave board, till 156+ freeride board. Sails we have from 3,0 till 7,8 sqm, plus smaller kiddy sails. Mast which we use are RDM min 75% carbon. Vario harness lines on black series booms. Upgrade to carbon boom available.
Non windsurfing activities?
We can offer guided bike or climbing tours. There are plenty of nice places for hiking( Kali Limni, Profiterias, Arkasa, etc.). We also offer Yoga sessions with Vero. We can help you to organise a diving excursion together with Dive center Karpathos.
What about the safety on the water?
Your safety is our priority! Always one team member is on the baywatch checking the whole area. Mastfoot and board number for crosscheck. Free of charge GPS locator, with SOS function.
Karpathos highlights?
What to visit in Karpathos:
Main town Pigadia – shopping + nightlife
Kali Limni – hike to the highest mountain
Best of the beaches – Achata – swim to the cave
Apella – beach of the year 2006
Kyra panagia
Olympos – traditional mountain village
Saria – inhabited island on the north
Tristimo – big natural harbor in the north part

What can my (not windsurfing) partner do while I am windsurfing ?
Your partner can first relax on our sundeck or they could sip vitamins from Anemos Bar just above in an international and friendly atmosphere. They could also energise with Yoga and enjoy excursions, mountain biking or rock climbing. Exploring a nice beach, Hiking, discovering the karpathian secrets : villages, curiosities...
A good place to learn for my kids?
Chicken Bay is a magic "kid bay": sand, shallow water, horseshoe shape beach. Then our specific beginner and kid equipment is designed for it. The school sail range is from 1.0 to 3.0 m2. Then our multilingual and experienced instructors will bring fun into learning and everybody will have a good time.
Do you do radio teaching?
Yes, we use radio helmets but only for private teaching sessions either in GunBay, either in Chicken Bay. Come and ask in our office.
What is your GPS safety thing?
This system is free of charge for our guests. It comes with you in the water and send us automatic alarms when you are windsurfing. For example if you go too far out of the "surfzone", the station will get an alarm and you as well. And most important, you have the option of pushing the alarm button manually in emergency cases.

Do you have a WLAN/internet?
Yes a free WIFI is available from our Anemos Bar.

How far is Anemos/Gunbay from Chicken Bay?
It is about 800 m apart. Walking along the coastal road is nice and easy and takes 5 to 10 minutes depending on how many pictures you take!

Where can i leave my valuables?
We recommend you to leave your valuables in your hotel room. But Karpathos and the station are safe places.If needed the office can keep small things during opening time. Anyway by experience if you forget something on the beach you will find it there the next day, or in the water pushed by the wind .

Shopping?
Minimarket , few km, delivery possible. Supermarket, 20 min drive, in Pigadia or Arkassa village. Fruits and vegetable at the local shops is recommended!!!