WELCOME TO FUERTEVENTURA RISCO DEL PASO
KITESURF / WINDSURF / SUP
The Best of Surfing Elements
Location : Risco Del Paso/Fuerteventura
Opening hours: September until April, daily 10.30 – 17.00 , May until August , daily 10.00 – 18.00
The beautiful natural beach of Risco del Paso in the south of Fuerteventura is located 7 kilometers south of Costa Calma. In 2013, ION CLUB opened a windsurfing and kitesurfing school there.
There are very few places in the world that offer so many different riding conditions in one place, as does the island of Fuerteventura and the ION CLUB Fuerteventura center. Customers can use the regular and free shuttle service between the ION CLUB centers of Risco del Paso and Costa Calma. Here, at the center of Risco Del Paso, the advantage is that we have wind all year round, and shallow waters that allow you to have a large standing area, which makes this spot a unique place.
WE OFFER THE BEST SERVICES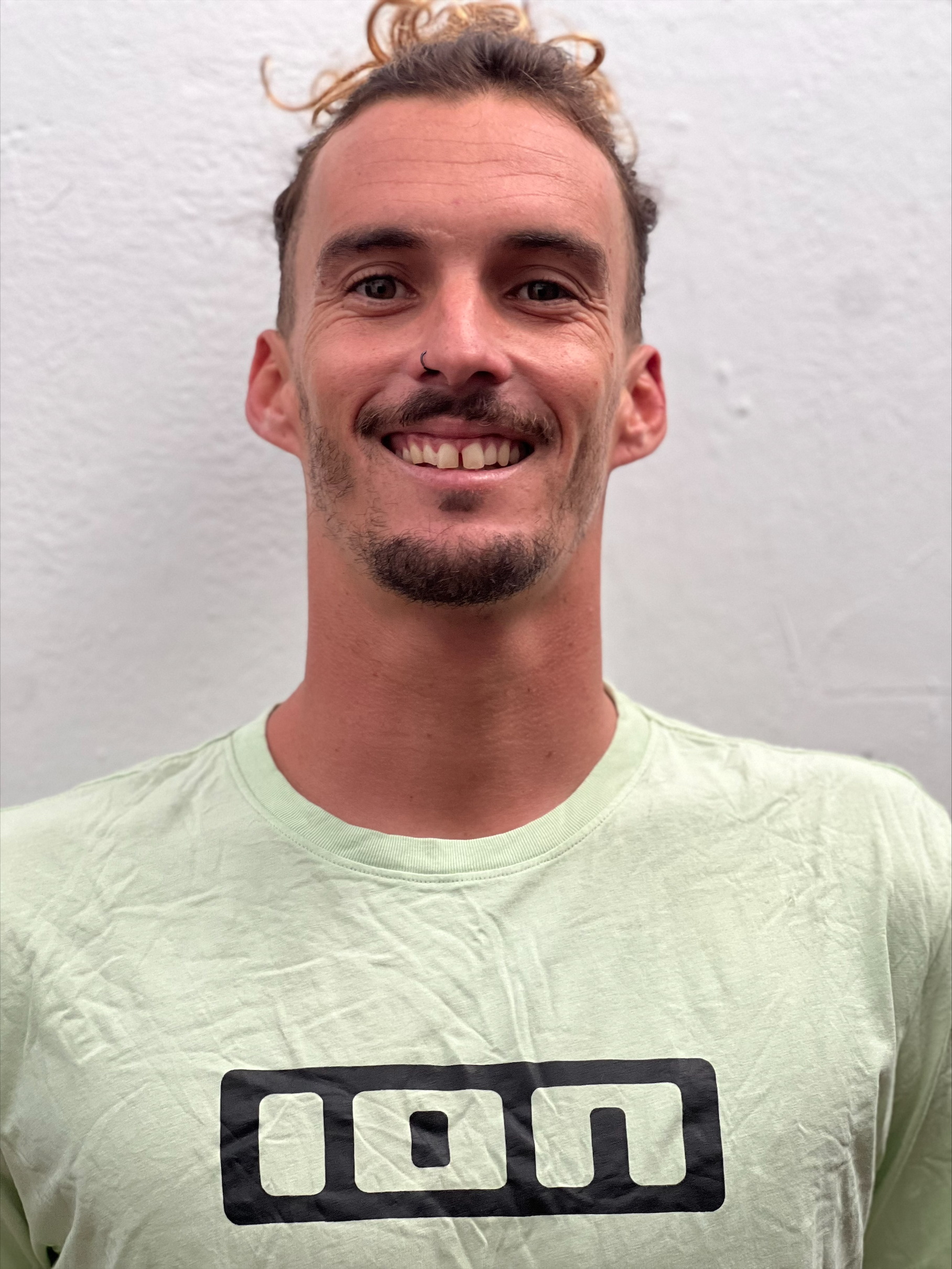 The site of Risco de Paso is a small paradise at the gates of Europe where we can indulge in our common passions of windsurfing and kitesurfing. We offer windsurfing courses and kitesurfing courses, as well as windsurfing rental. The wingfoil courses take place at ION CLUB Costa Calma where we also offer stand up paddle. Kite rental is available but can only be booked on the spot and for independent kiteboarders. The wind in Fuerteventura blows almost all year round, and the temperatures are pleasant all the time. The fact that there are tides creates a large lagoon some weeks, and no matter what your level is, you will be able to sail, that's what's incredible about Risco del Paso! With family, friends or alone, come and discover our beautiful place and conditions … the spot is magical!
Best spots on Fuerteventura
The huge sandy beach and the windsurfing and kitesurfing spot of Risco del Paso are in a class of their own. Indeed, it is difficult to find a spot that offers so many different conditions in the same place. It is surely the best speed spot for windsurfing, right in front of the ION CLUB center, really living up to its reputation. Depending on the tide, there is a large area where you can walk, perfect for intermediate windsurfers or to perfect your waterstart and jibe. Windsurfing in Fuerteventura is possible for everyone. Another advantage of the island, when the tide is high, is the presence of two shallow water lagoons perfect for lessons for windsurfing beginners, which is often reassuring. Our kitesurfing school holds lessons on the left side of the spot in a separate area from the windsurfing. Kitesurfing in Fuerteventura is also a very popular activity.
Upwind of the ION CLUB Risco del Paso center, there is a nice wave spot with a maximum height of one to two meters. It is an ideal spot for windsurfers and kitesurfers who want to learn wave riding, but also for surfers who want to get in the water while staying close to the center. The waves are mostly smooth and the sandy bottom is harmless.
Our second center on the island of Fuerteventura is ION CLUB Costa Calma, recognized as a windsurfing and wingfoil center – offering lessons and rental of windsurfing and wingfoil equipment. The center is located directly in the middle of the huge sandy beach of the village of Costa Calma, in front of the Monica Beach Hotel. Enjoy the unique comfort of this spot, as it is only a few steps away from most hotels. In addition to the advantage of short trips from your accommodation to the center, you'll find great windsurfing conditions in Fuerteventura, especially for beginners in the morning and for more advanced levels and freeriders for the rest of the day. In the morning, beginner windsurfing lessons are held in calm conditions, without waves. Once Fuerteventura's wind machine gets going, freeriders will find excellent flat water conditions for playing with speed.
BEST PERIODS
March, April, May, June, July, August, September, October, November
WIND
The hills just behind the beach of Risco del Paso accentuate the strength of the wind and also affect its direction. The wind blows in a northeast direction, from the left towards the open sea. It is quite strong and very reliable in Fuerteventura, especially in the summer. Although not as strong in spring and autumn, the wind is still present. The conditions for kitesurfing, windsurfing and wingfoiling are optimal, making it a very popular surfing destination. Fuerteventura became known decades ago for windsurfing. The island has always been an undisputed windsurfing spot. Surfing in Fuerteventura is also a local institution.
WAVES
The waves on the left side of the spot of Risco del Paso can sometimes reach up to two meters in height. They roll towards the beach because of the large sandbar that divides the lagoon, the open sea and the bay. The wave conditions are fantastic, especially for beginners in both windsurfing and surfing. There are no rocks or stones that could endanger you during your session, only sand.
CURRENT WEATHER RISCO DEL PASO
HOW TO GET TO sotavento beach RISCO DEL PASO?
From Fuerteventura Airport
It is quite easy to travel to and stay in Fuerteventura all year around. Several direct flights are offered by airlines from many European airports. Do not hesitate to rent a car as the rates are often attractive and it will be very useful to move from spot to spot, or to see more of the beautiful island.
Allow about 1 hour and 15 minutes from Fuerteventura airport to the ION CLUB Risco del Paso center, which is located a little past Costa Calma. From the airport, take the FV-2 road towards Morro Jable and Jandia. The ION CLUB center in Costa Calma is located on the beach of the same name, right in front of the Monica Beach Hotel. If you want to go from Costa Calma to Risco del Paso, drive on the FV-2 in the direction of Morro Jable until PK 72 "Risco del Paso".
Hotels, surf houses and apartments … there are so many types of accommodation on offer in Fuerteventura.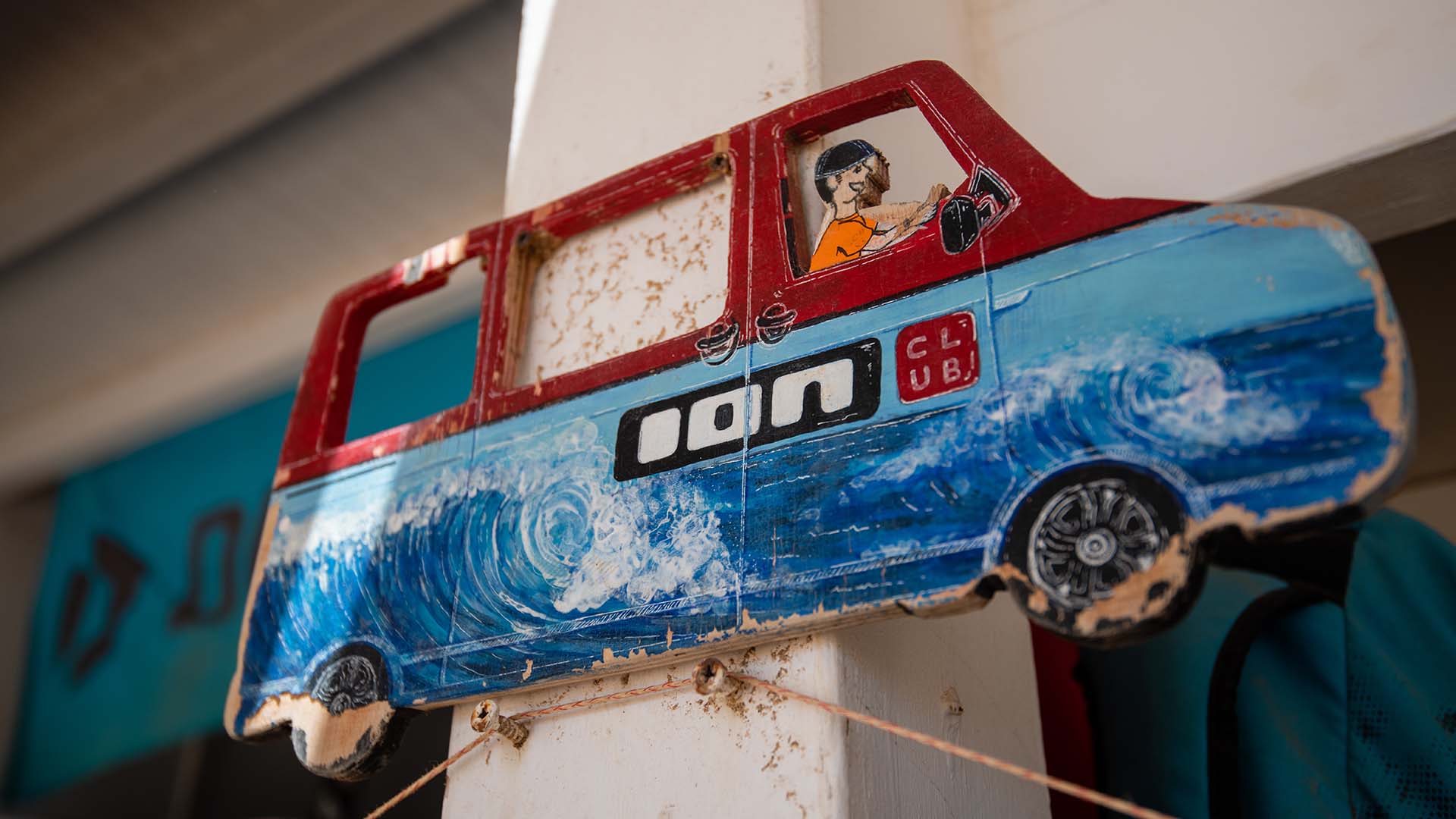 Playa Risco Del Paso, Km 72, 35627 Pájara, Las Palmas, Spain
WHAT TO DO AROUND FUERTEVENTURA?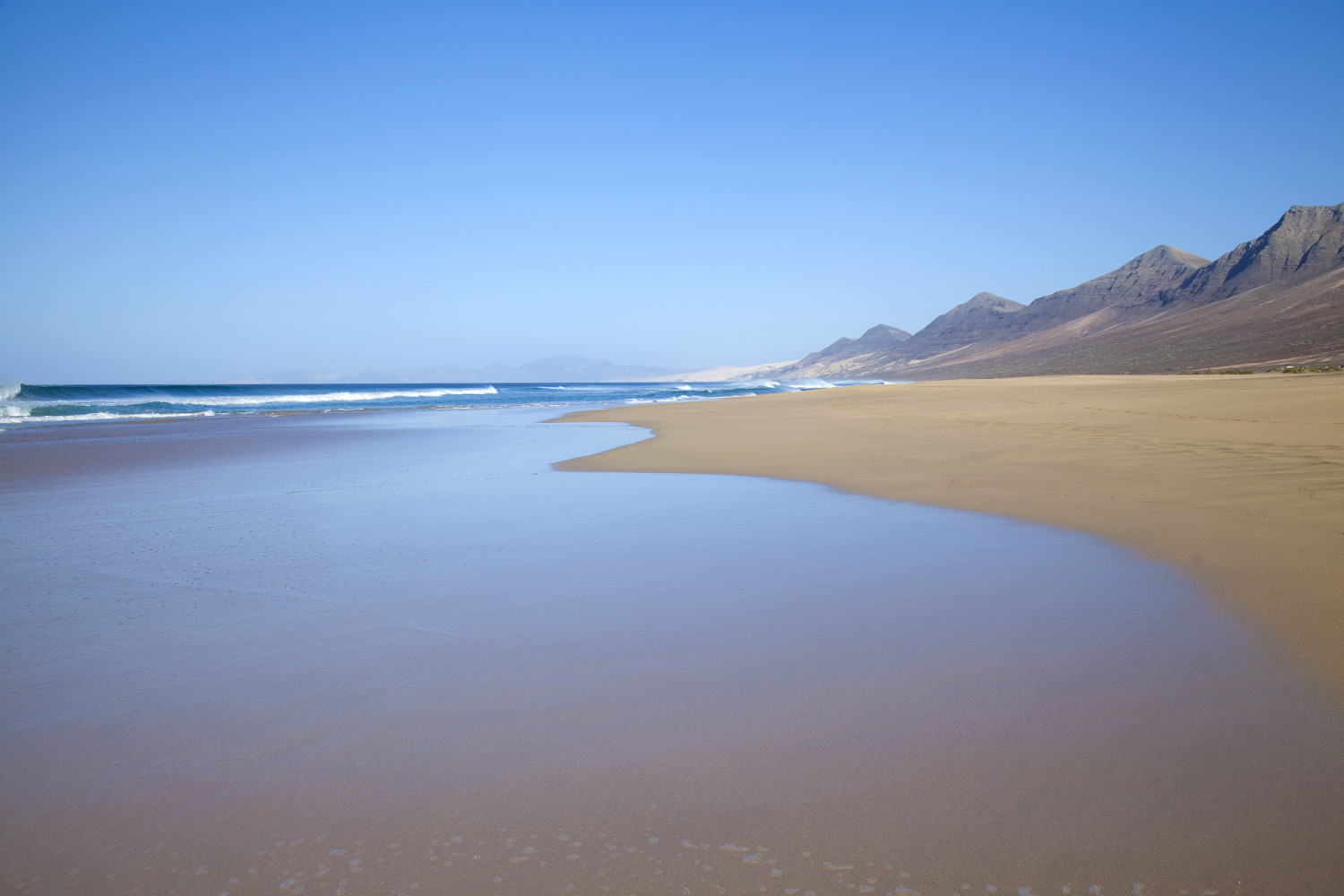 A few kilometers from Costa Calma, you will find a small village called Cofete, located in one of the natural parks of Fuerteventura. After having observed the stunning panoramic view of the south coast of Fuerteventura, you will be able to taste a typical Canarian dish in one of the restaurants of the island.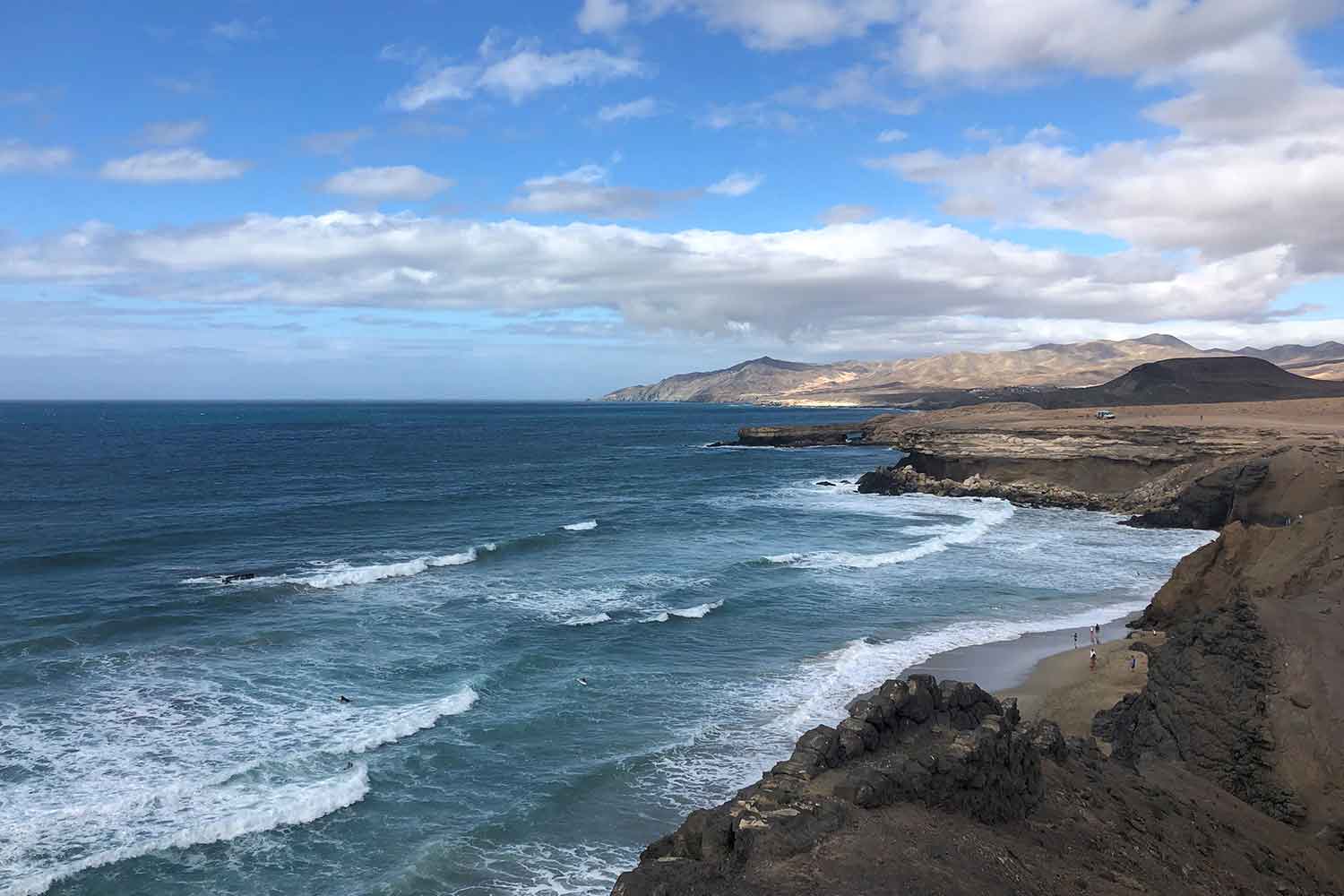 La Pared is located on the west coast, about 10 km from Costa Calma. In this small town you can see the most beautiful beach of Fuerteventura from the top of its cliffs. It is THE surfing beach and THE main surfing spot in Fuerteventura. An ideal place to learn and progress in surfing, and of course top for independent surfers. The waves are perfect. You will find most of the surf schools of Fuerteventura and its surf camps here at La Pared. After the session, take time to sit on the cliffs of La Pared, and enjoy the view of the setting sun in front of you, while you watch it disappear over the horizon.
For hiking fans, Fuerteventura has a few things to offer, one of them is the so called "Baranco de las penitas". After a walk through the volcanic rocks, where you will see a few of the local chipmunks and goats, you will find a "rock window" through which you have a nice view of the mountains.
A story of pioneer since 1985
The story of the ION CLUB tells of people who have turned their passion for windsurfing and kitesurfing into a profession. Since its founding in 1985, customer orientation, team spirit, innovation and professionalism have been the top priorities of our corporate philosophy.
The ION CLUB / Club Mistral has gained a lot of experience in the 38 years of its existence and has developed more and more into a company that focuses on communicating with guests and fulfilling their needs and wishes.
With 17 water sports schools worldwide, we are one of the leading companies in this field. ION CLUB has a network of international partners in different countries. We strive to be international and multicultural and express this through the selection of our employees, who currently come from 24 different countries.
FREQUENTLY ASKED QUESTIONS
IS KITESURFING ACCESSIBLE TO EVERYONE ?
Yes, like all sports, you have to be in good shape. Children must be a minimum of 12 years old in order to take part.
HOW MANY LESSONS DO I NEED TO LEARN KITESURFING (TOTAL BEGINNER)?
WHAT DO I NEED TO BRING FOR MY KITE / WINDSURF / WINGFOIL LESSONS?
Included in the course: wetsuit, harness, leash, vest and helmet.
WHAT LANGUAGES DO YOUR INSTRUCTORS SPEAK?
Included in the course: wetsuit, harness, leash, vest and helmet.
WHAT HAPPENS IF I PAY FOR THE LESSON IN ADVANCE BUT THERE IS NO WIND?
At the time of your departure, the center will take stock of the situation and you will be issued with an ION CLUB credit note corresponding to the number of hours not taken, valid for all ION CLUB destinations for 24 months.
IS IT POSSIBLE TO PAY BY CARD?
CAN WE WITHDRAW MONEY IN SAL?
WHAT WINDLESS ACTIVITIES DO YOU PROPOSE ?
DO YOU SUPERVISE THE CHILDREN ?
IS THERE A SHUTTLE SERVICE FROM THE HOTELS TO THE CLUB?
Yes, ION CLUB can pick you up at your hotel around Costa Calma and take you to the ION CLUB Fuerteventura centers. However, there are some imposed schedules.
IS THERE FOOD AND DRINK AVAILABLE NEAR THE CENTER?
DO I NEED TO RESERVE EQUIPMENT IN ADVANCE?
DO I NEED INSURANCE FOR THE EQUIPMENT?
WHAT DOES A RENTAL INCLUDE?
Complete equipment + wetsuit, harness, leash, helmet, vest.  
DO I NEED TO BRING MY OWN WETSUIT AND HARNESS?
It is recommended if you rent your equipment. 
CAN I STORE MY OWN EQUIPMENT AT YOUR CENTER?
Yes, only at the ION CLUB Ponta Leme center, (Windsurf & Wingfoil). 
CAN I RENT EQUIPMENT AND GO TO ANOTHER PLACE?
WHAT HAPPENS IF I PAY THE RENTAL IN ADVANCE BUT THERE IS NO WIND?
You can use the SUP & SURF boards available at the center at no extra charge. 
WHAT IS THE BEST TIME OF THE YEAR TO KITE IN SAL?
The conditions are good from May to September. The best period is from April to October.
WHERE CAN I CHECK THE WIND CONDITIONS?
DO I NEED BOOTIES ON THE SPOT?
WHICH NEOPRENE SUIT IS RECOMMENDED?
The more chilly ones sail in a full wetsuit, and the less chilly ones in shorty. 
WHAT DOES THE EQUIPMENT BREAKAGE INSURANCE COVER ?
It protects your rental equipment against possible damage. However, it does not cover loss of equipment, or damage caused by any negligence on your part.
CAN I LEAVE MY PERSONAL BELONGINGS AT THE CENTER ALL DAY?
Yes, lockers are available.