Windsurf courses, all you need to know
Windsurfing was invented in the 70's and is now practiced by a large number of people all over the world, whether on closed waters such as lakes, or on the ocean and the sea. Despite the appearance of kitesurfing and more recently the arrival of wing surfing – or wing foiling, windsurfers are still loyal to this incredible sport.
Can I start windsurfing without a course?
Windsurfing is certainly less dangerous than kitesurfing, but the beginning learning curve can be a lot more challenging. Progress is much slower than kiteboarding and other watersports, but the sound advice of a qualified windsurfing instructor will help you get fully into this amazing sport. Checking the weather forecast, analyzing the water, choosing the right equipment according to your level and the wind and water conditions are essential steps.
Nowadays, finding a water sports center near your home is much more accessible, so get out there and learn with a windsurf instructor, because learning alone can take years to reach a good level.
What is a windsurfing course?
To rent windsurfing equipment in a club it is not necessary to have a level recognized by a federation as it is with kitesurfing. Nevertheless, taking lessons to begin or progress in windsurfing will make you a confident and accomplished windsurfer depending on how long you practice over a year.
Learning to identify wind strength and direction are the basics of the sport, and this starts on the beach before you get on the water. Then comes balancing on the board with the help of the rig, and the feeling of having a third element that is the mast and the sail propelling you forwards giving a priceless feeling of gliding over the water.
Understanding and making use of the different wind speeds and directions is also a must in windsurfing. Understanding sideshore, onshore, offshore winds… and riding downwind, across the wind and most importantly upwind. Sailing upwind is essential to become an independent windsurfer and to have the assurance of returning to your starting point. Moves such as gybing (turning downwind) and tacking (turning into the wind), are the skills that your instructor will teach you little by little.
Windsurfing courses for adults and children are offered in many windsurf centers, in groups, semi-privateand private sessions for the more impatient!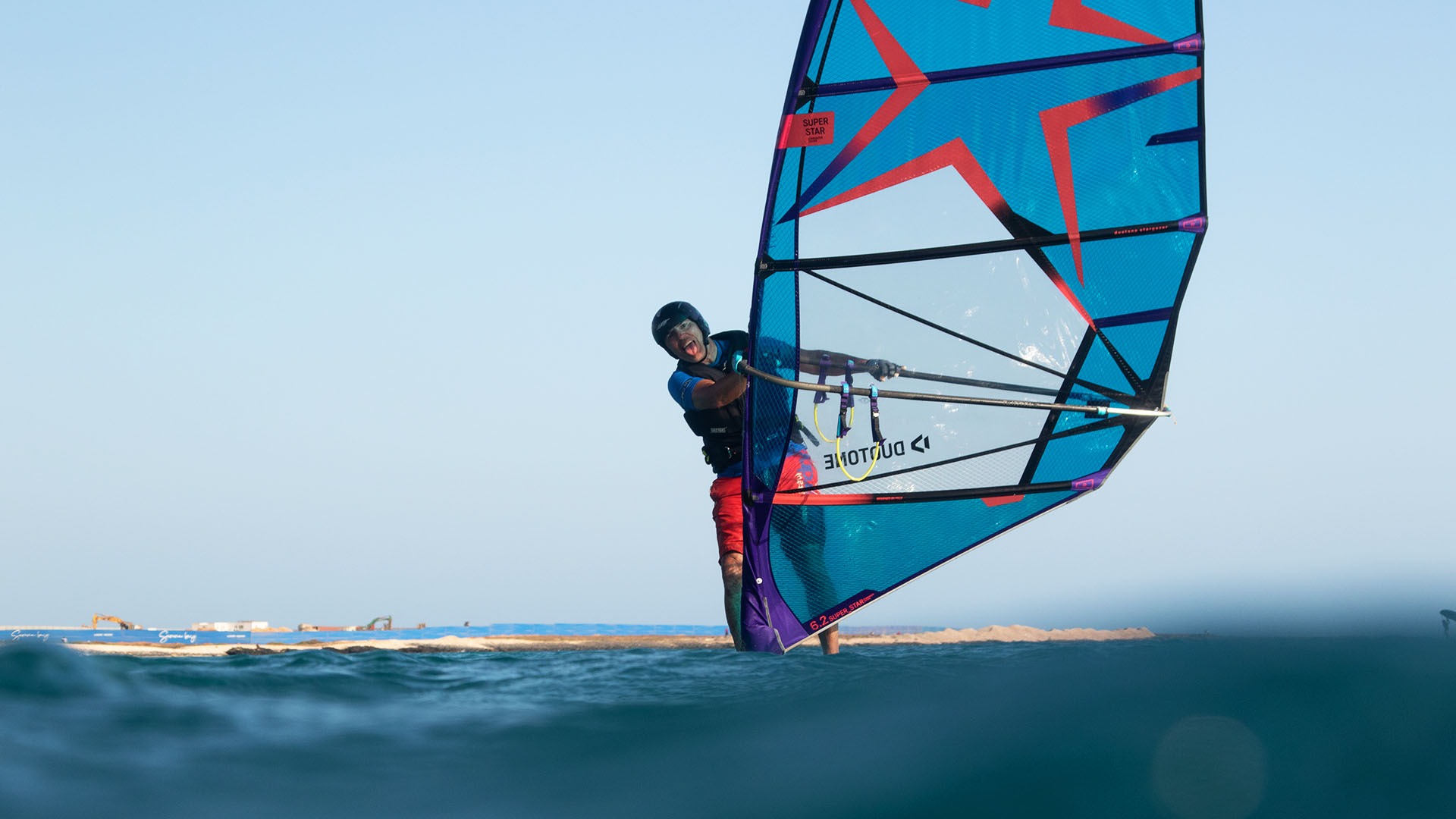 What windsurfing equipment do I need to begin?
To sail comfortably in windsurfing, the choice of equipment is essential. In the last 20 years, boards for beginners have become much wider and shorter than in the 80´s and 90´s, and have significant volume today, between 150 and 230 liters depending on the physique and weight of the windsurfer.
Boards are now more stable and much more maneuverable. As for the sail, the size used will depend on both the wind strength and windsurfers size. The advantage of windsurfing for beginners at a windsurf center is that you will have access to the right boards as well as much lighter rigs (sail + boom + mast) than a few decades ago since today's centers, especially the ION CLUB centers, have a wide choice of recent equipment from Duotone and Fanatic.
Younger children usually have sails between 1.5 and 2.5m², and adults between 3.0 and 3.7m² for a light person, and between 4.0 and 4.7 m² for people over 60-65 kgs.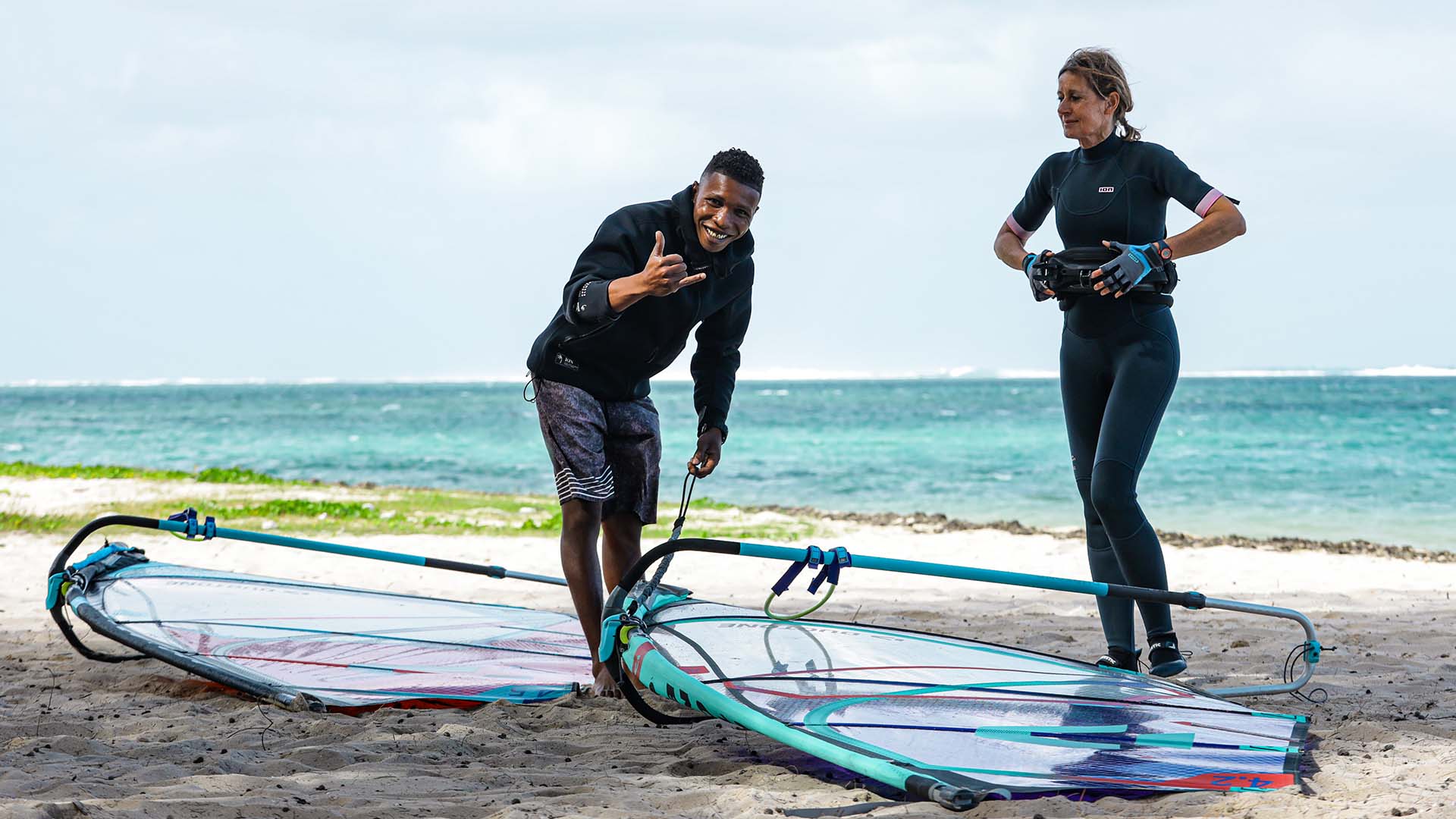 Are there different levels in windsurfing?
There are various types of equipment that you will be using depending on your level. If the weather is bad or the water is not practical for your windsurfing skills level and your current equipment, then you can rent windsurfing equipment under the supervision and advice of an ION CLUB center.
It is not a good idea to take a board that is too small or too technical for your own level, or a sail that is too big, it´s better to just let yourself be guided by the windsurfing center that will adapt the equipment to your level. The more you reach a certain level of independence and competence on flat water and then in small waves, and in stronger and stronger winds without drifting, the sooner you will have access to smaller faster boards of less than 100 liters.
Knowing how to tack and gybe is also an important step to become completely independent in windsurfing, and then you can move on to more powerful equipment.
Where to go to begin windsurfing?
There are many windsurfing spots on our beautiful planet, and ION CLUB centers are in place in some of them such as Greece, Spain and the Canary Islands, Morocco, Cape Verde, Turkey, and not forgetting glorious Mauritius.
To learn windsurfing or to progress with ease, choose a place where the water is at worst only choppy and the wind is not too strong, between 5 and 20 knots, at least for half days, because it often happens that the wind strength increases in the afternoon on many spots.Note that wind is your best ally on a windsurfing board, even for beginners starting from scratch. Zero wind will not get you anywhere on the water. Get advice from the windsurfing club beforehand or go through a windsurfing tour operator to make sure you go to the right destination for your level, and at the right time.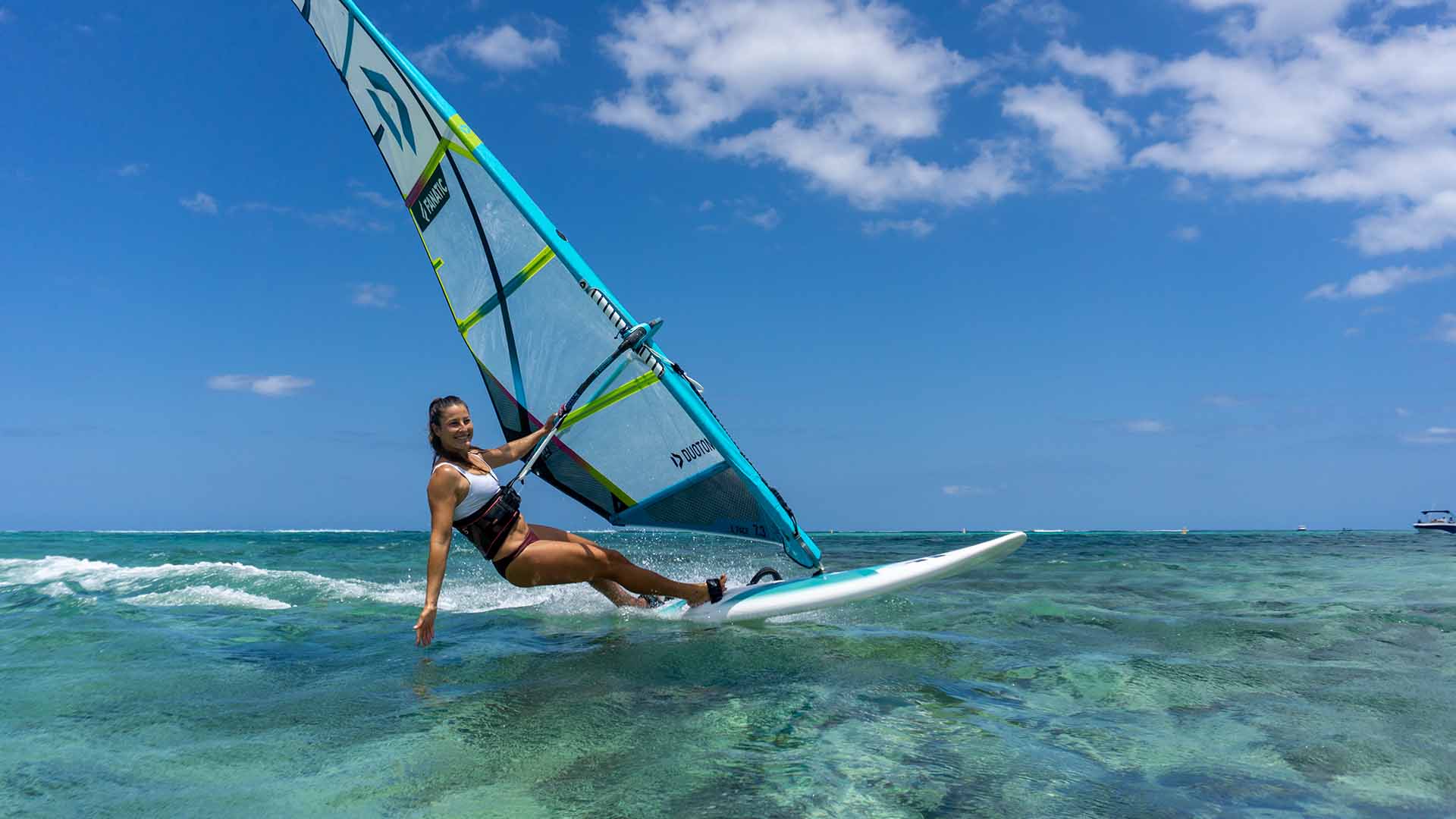 Is windsurfing difficult?
Windsurfing is a sport or hobby for some, and an obsession for others. In any case, nobody can become a very good windsurfer with only a few hours of practice. Windsurfing is a worthy activity and so much fun once you have learned the basics. Slalom (pure speed), freeride (chop), waves, jumping, freestyle … so many disciplines that windsurfing will reveal to you in future sessions. It is a continuous learning curve! True, the progression is slower than in kitesurfing or wing surfing, but the feeling of planing in control and at speed in nature is absolutely unbeatable. 
Don't hesitate to register your children in a windsurfing course, or yourself as an adult. This activity forms the very basis of many other sailing sports in helping you to better understand the wind, the sea and the ocean, the natural environment, and a whole lot of factors that will make you a satisfied and accomplished waterwoman or waterman.