Kitesurf Rental Fuerteventura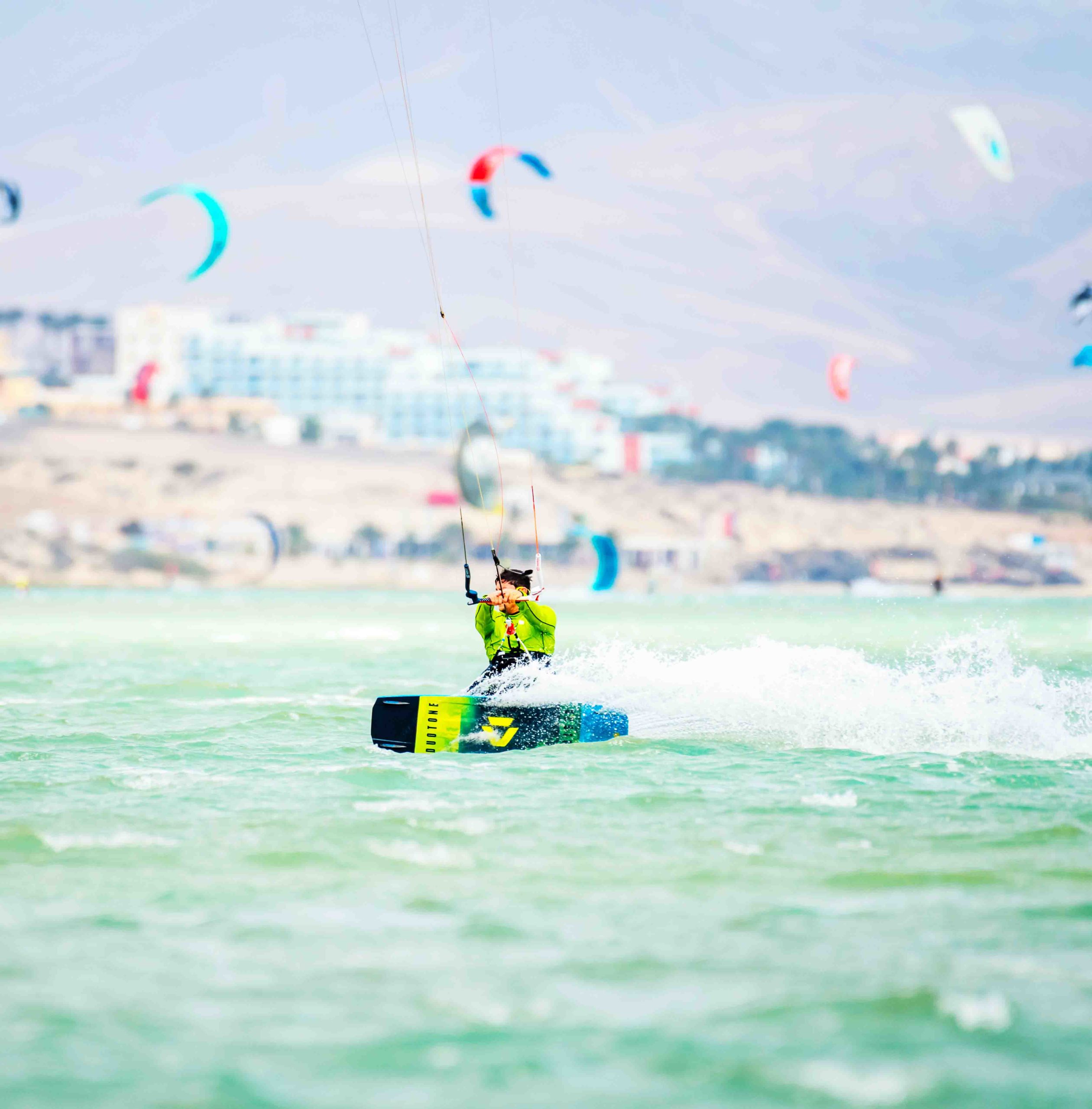 Kitesurf Rental Risco del Paso
Our ION CLUB Kitesurf Center in Risco del Paso is equipped with the latest and full range of DUOTONE Kiteboarding gear. Choose freely between EVO, NEO, DICE, REBEL or VEGAS, available in large quantities and all sizes. 
Our Duotone Board stocks range from various Twintips such as Jaime, Select, Gonzales and Soleil to a variety of Directionals, such as PRO WHAM, PRO WHIP and PRO VOKEs. The range of Kitesurfing toys is topped up with Click Bars and different Kite Foil Boards for you to play with!
Choose freely from the entire Duotone Range and change your gear as often as you wish to! Our Instructors will be more than happy to help you find the perfect setup for the day and make sure your session on the water is as great as it possibly can be!
Fuerteventura: Kitesurf Rental only available ON SITE and only possible IN the lagooon; 2 hrs of supervision on the first day is obligatory (70 EUR per person, incl. equipment).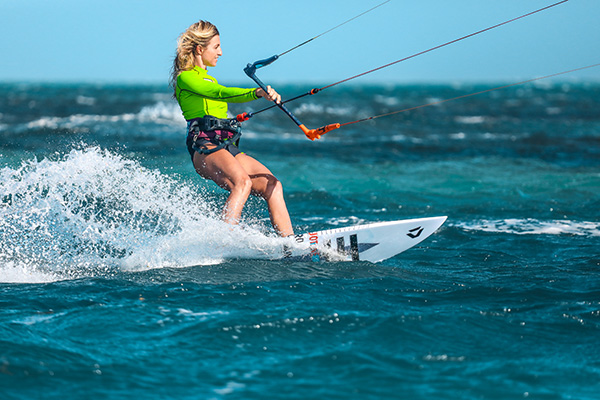 Kitesurf Equipment Rental
Objectives
Enjoy the freedom of travelling without your gear
Objectives
Enjoy the freedom of travelling without your gear
Included/Excluded
Board
Kite
Bar
Harness
Helmet
Wetsuit
Assistance from a rescue boat
Don't forget
Swimming costume/shorts
Sunscreen
Towel
Information
As one of our kite rental guests you're free to use every kiteboard and every kite DUOTONE has in the range, change your gear as often as you like and find your favorite combination each day you kite.
We have a wide selection of kites, twintips and foil boards, as well as wetsuits, harnesses and more. We change our stock regularly and we always have the latest equipment for your service. So come and ride with us, no need to carry your equipment if you can try the latest toys at our station.
Requirements
A Kitesurf license is required to rent Equipment. VDWS min. Level 5 or IKO 3K. If no License existing we need to do a Level Check up
Addons
Equipment CoverPlus

Protects you against paying the full cost of board replacement in the event of damage.

Double Use (2 Persons Sharing The Equipment)
Your safety is our responsibility
Kitesurfing Safety at Risco Del Paso
A safety tower at Risco del Paso Playa Sotavento is always occupied by a lifeguard looking over the windsufers during opening hours, and able to act immediately in case of any emergency. The safety team is ready all times to attend rescues with the jetski or the zodiac. Nevertheless, we would like to underline that the spot at Risco del Paso Playa Sotavento has offshore winds and therefore every windsurfer and kitesurfer should act with due diligence to prevent dangerous situations. Offshore winds are risky and demand that you should assess your sailing abilities honestly before going out in such conditions.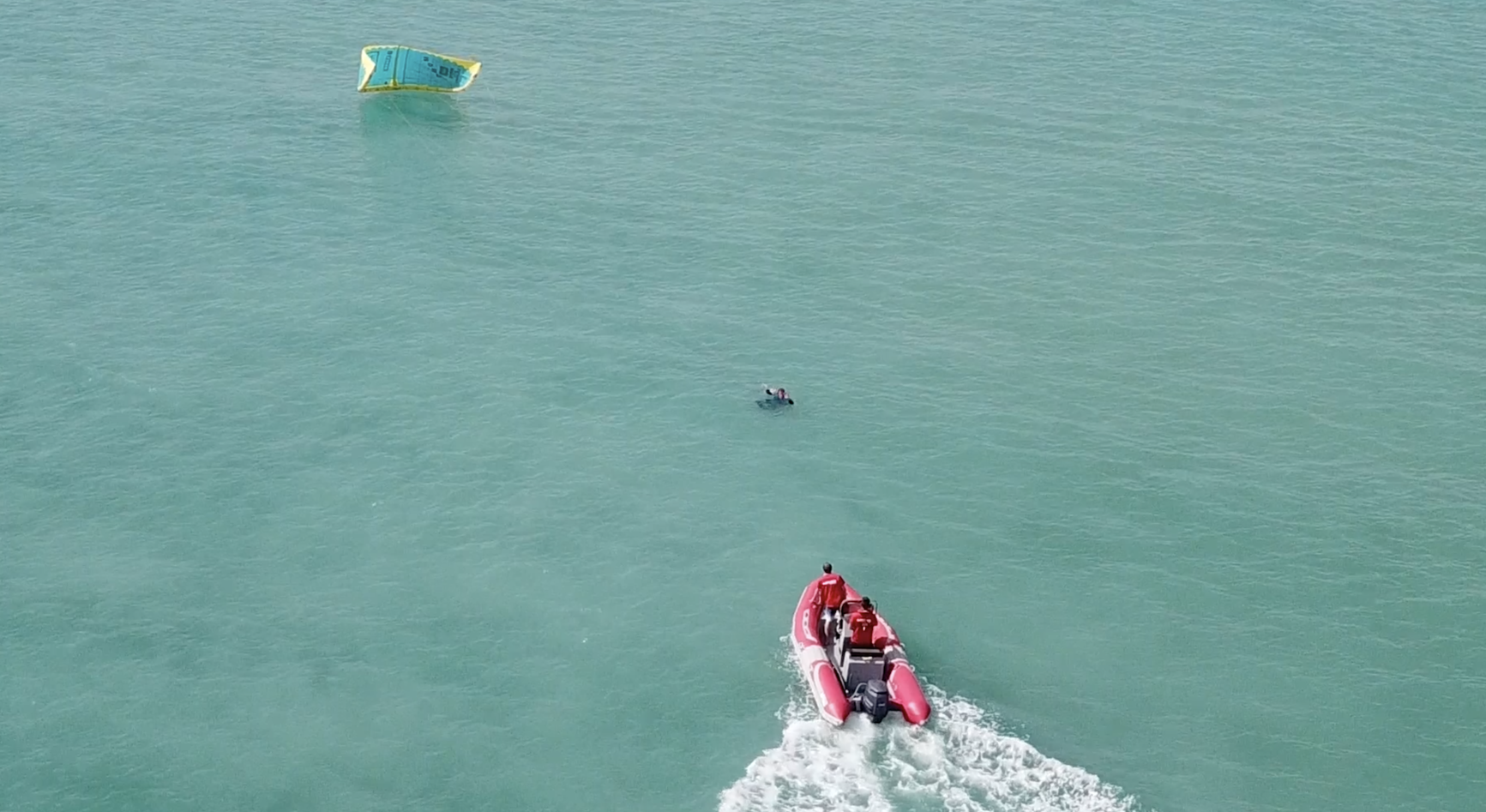 Our kite center is situated directly on the famous beach of Risco del Paso/Sotavento in Fuerteventura and therefore it makes changing equipment throughout the day very easy.
As one of our kite rental guests, you are free to use any kiteboard and any DUOTONE kite of the range, change your gear as often as you like and find your favourite combination every day you kite.
The beautiful natural beach at Risco del Paso, Fuerteventura is located seven kilometers south of Costa Calma. In 2013, ION CLUB opened a wind and kitesurfing school there.
Guests can take the regular and free shuttle service between the center Risco del Paso and Costa Calma. Only a few places in the world offer so many different surf conditions in just one spot than Fuerteventura.
Here at the center you will find a large sandy beach, safe shallow water and wind throughout the year, which makes Risco del Paso a unique place.
BEST PERIODS
March, April, May, June, July, August, September, October, November
WIND
The hills right behind the beach of Risco del Paso Playa Sotavento accelerate the normal wind strength and also alter the direction of the wind. The direction is more northerly to northwesterly than northeasterly, and blows side-offshore to offshore from the left. Particularly in the summer months the wind is quite
strong and very reliable, but also in spring and autumn there are very good conditions making a windsurfing or kitesurfing trip worthwhile at this time.
WAVES
The waves to the left hand side can get up to two meters high. The waves turn to the direction of the beach due to the large sandbank which divides the lagoon, the open sea and the shape of the bay. Therefore there are fantastic
waveriding conditions especially for beginners. There are no rocks or stones to disturb your session, only pure sand.
HOW TO GET TO RISCO DEL PASO?
From Fuerteventura Airport
To go to Risco del Paso, you will pass by Costa Calma first. The drive from the airport to Costa Calma takes about 1 hour, 1 hour and 15 min approx to risco del Paso and to Esquinzo around 1 hour 40 min (ca. 100 km). From the airport drive along the FV-2 towards 'Morro Jable and Jandia'. The ION CLUB Center in Costa Calma is located right on the beach in front of the SBH Costa Calma Palace and the Monica Beach Hotel. If you are traveling with a rental car and want to get from Costa Calma to Risco del Paso, you drive on FV-2 direction Morro Jable to 72 kilometers "Risco del Paso" there it goes to the left along a small dirt road to paradise - the journey takes about 20 minutes. If you are traveling from Esquinzo and want to get to Risco del Paso, you drive on FV-2 direction Jandia, then there it goes right along a small dirt road...
Playa Risco Del Paso, Km 72, 35627 Pájara, Las Palmas, Spain
A story of pioneer since 1985
The story of the ION CLUB tells of people who have turned their passion for windsurfing and kitesurfing into a profession. Since its founding in 1985, customer orientation, team spirit, innovation and professionalism have been the top priorities of our corporate philosophy.
The ION CLUB / Club Mistral has gained a lot of experience in the 30 years of its existence and has developed more and more into a company that focuses on communicating with guests and fulfilling their needs and wishes.
With 17 water sports schools worldwide, we are one of the leading companies in this field. ION CLUB has a network of international partners in different countries. We strive to be international and multicultural and express this through the selection of our employees, who currently come from 24 different countries.