Wingfoil course – how to get started
A mix of foil, windsurf, kitesurf and sailing … and the wingfoil is born! Admittedly its invention is a little more complex than that, but this new board sport has been well and truly present on our spots since 2019. Many enthusiasts have taken up the passion of flying above the water with the help of a small wing operated directly by the hands … and the amount of riders is rapidly increasing as the pleasure is so intense!
Is it possible to start wingfoiling without a course?
From being unknown a few years ago, wingfoil is now offered in many sailing schools, especially where windsurfing and/or kitesurfing are already taught. By the way, wingfoil is kind of similar to windfoil and kitefoil, but without a mast or lines… just a wing in your hands. The feeling of lightness and flying is more or less the same, but there is a more expressive feeling of floating in the air above the water at a lower speed, so therefore more reassuring.
Learning to wingfoil alone can be a choice, but it is not without risks particularly if you don't know how to evaluate the weather and sea, and have no notion of wind or sailing, kiting and windsurfing. Wing instructors carry experience, and they will know how to ensure that you evolve little by little with particular methods linked to the sport.
It is possible to learn wingfoil without a course, but you will need more patience. As for the choice of equipment, it can be complicated at the beginning. Doing a wingfoil course at a recognised centre is the best way to see if you like it, then to see your own evolution, and then invest in equipment that corresponds to your current level.  
What is a wingfoil course?
A wingfoil course always takes place over several sessions, sometimes two or three, and sometimes many more, depending on your ability to adapt and your background as a kitesurfer and/or windsurfer, or even as a foiler – kite or windsurfer. For those new to sailing and board sports, some schools will teach you to wing on a stand up paddle board or large windsurfing board in order to understand the wind and to steer almost naturally, using the wind as your engine. This can also be done on the beach. Other schools may start your journey by towing you by their motorboat in order to get acquainted with the foil directly, this before flying the kite.
There are no right or wrong methods, the main thing is to achieve the same result, i.e. to glide with a wing board under your feet, without risk and without being scared, and as comfortable as possible.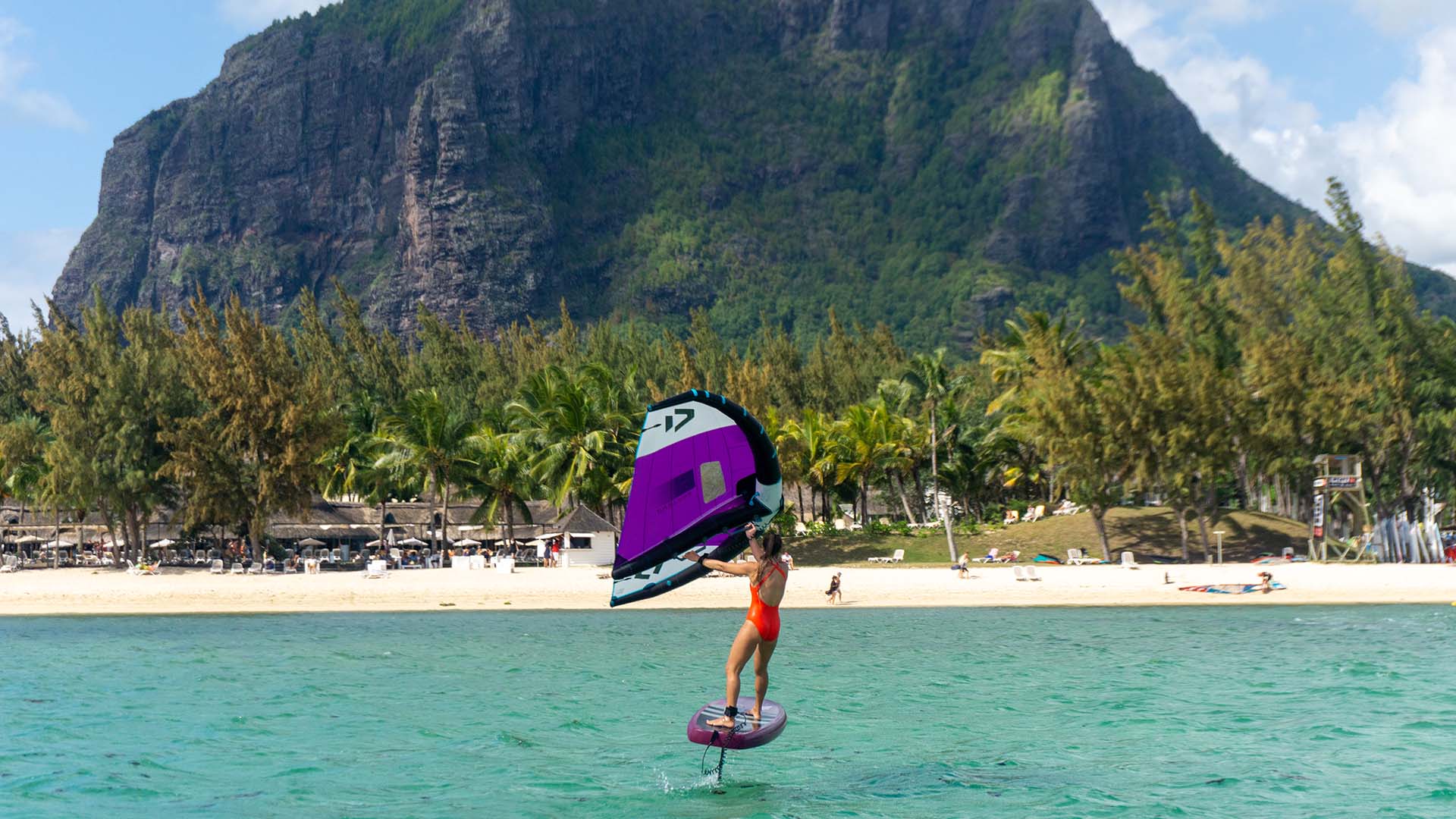 How much does a wingfoil course cost?
Wingfoil is still a new sport. Sailing centres and surf shops are certainly restocked every year, but deliveries are often very long, and the second-hand market is developing very slowly. The price of wingfoil equipment is suffering, and so are the wing lessons. In the ION CLUB centres, count on average 130 to 200€ for a 2 hour lesson – beginner or advanced level – depending on whether it is group or private. To discover the wing, 2 hours will certainly be enough, but many schools offer packages of 4, 6, 8, 10 hours, etc… with a sliding scale of prices around 600 € for example for 10 hours of group lessons (3 to 4 people maximum). The price will differ from one sailing school to another, depending on whether or not the motorboat is used for towing.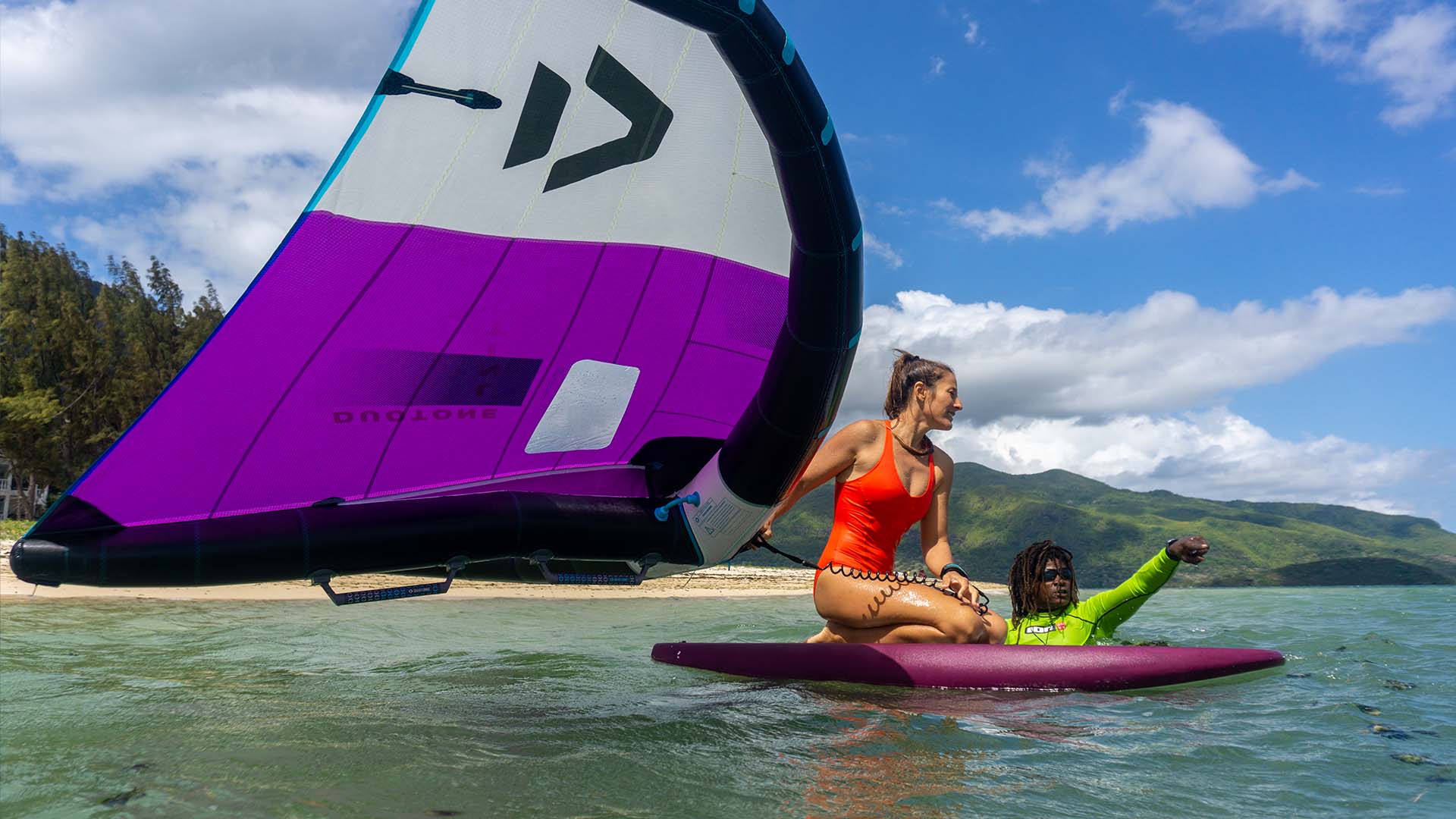 What equipment do I need to start wingfoiling?
Starting wingfoiling with your own equipment is the right decision for your adventure in this fabulous wing sport! If you don't glide yet, or hardly at all, opt for a board with a volume of about 40 litres more than your own weight. For example, a person weighing 70 kilos will be allocated a board between 105 and 115 litres. If you practice a lot, you will grow quickly in a few months, and then you will move to a smaller board. As for the wing, the perfect size is around 4 to 5 m² depending on your physical profile; it will make you fly from 15 to 25 knots. Don't forget the leashes so you don't lose your gear, one on your wrist for the kite and the other on your ankle or waist for the board. Choosing a foil that helps you take off as soon as possible is crucial. 1700-1800 cm² is the surface area of your front wing with a 70-80cm foil mast.
What are the different levels of wingfoil?
Several evolutionary phases in wingfoil follow one another: learning to manoeuvre and manage your wing to move forward and get going, maintaining your attitude in order to stabilise yourself on your board and move forward for as long as possible, turning to change tack, releasing your wing with one hand to practice free flying, and finally jumping when you're at that stage! So many steps that will make you a great wingfoiler.
Thanks to social networks and videos published on the internet, many wingfoil tutorials are available and will help you to evolve in your new passion.
Where to start wingfoiling?
Starting wingfoiling can be done in a lake, on the sea or the ocean. So many possible playgrounds! Always choose flat or almost flat water and a cross wind (side-shore) close to 20 knots, it will be much easier to take off and keep planing, manoeuvre your wing …and not to drift too much if you don't master the upwind.
Again, consider taking a wingfoil course at a recognised centre, especially if you don't come from a windsurfing or kitesurfing background.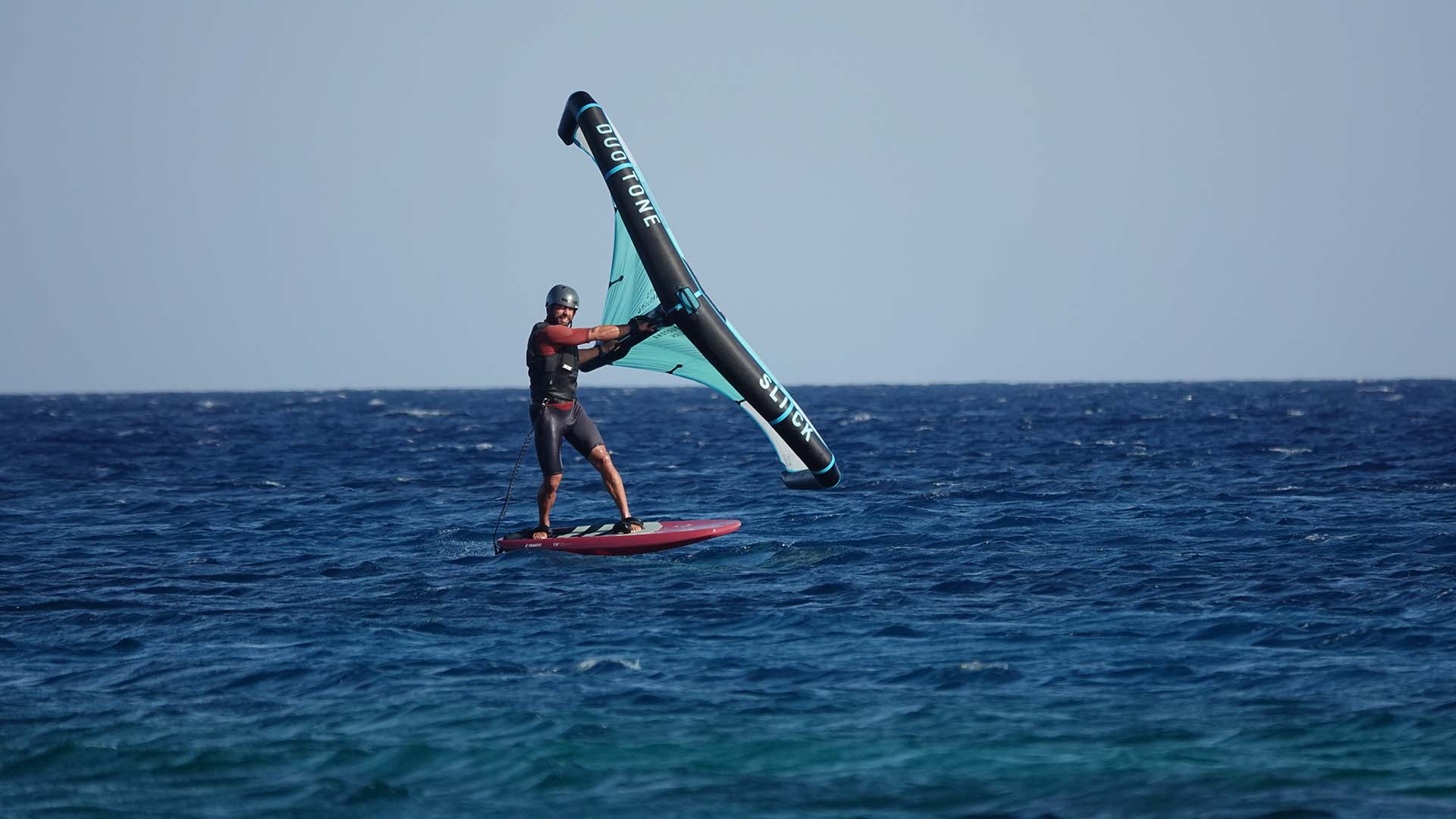 Is wingfoil difficult?
Learning to wingfoil can be fast or slow, depending on your sailing, kiting, windsurfing or foiling skills. It is obvious that a rider experienced in one of these fields will progress more quickly than a novice. Add to this the weather conditions which are not always favourable, and maybe you still won't know how to fly after three or four sessions. However, with the right choice of equipment, good advice and perseverance, you will find that wingfoil is not too difficult. It is true that the feeling of gliding (and flying) comes a little later than in kitesurfing or windsurfing; however, once in full flight and at full speed, the happiness will only increase because it is so enjoyable! And the evolution can then become dazzling.
Comparing kitesurfing and wingfoil; these are two similar and yet quite different sports. It's true that the wings we use are similar and that we are in the same environment, but take off the lines and the bar, and freedom is yours. The kitefoil is certainly more dangerous than the wingfoil, the latter being perhaps a little closer to windsurfing, with the mast raising the sail less, and certainly the foil more. Although the windfoil also allows you to fly but more physically. The wingfoil is a little slower to learn than kite and windsurf, but to have fun without being afraid is very real in wing, around ten sessions you will know how to fly and make your first long tacks.
Learn wingfoil and improve your skills. It's the gliding sport that will allow you to sail almost anywhere without taking up too much space in your car or your flat, and above all without having to worry about rigging your equipment. Simplify your life!