How to choose the right kite size?
Every kite session requires an analysis of the prevailing weather conditions, especially the sky, the water and of course the wind. Whether it is light, medium, strong or gusty, the size of the kite you will use for your session will be a very important choice in order to get the best session.
A beginner kiter will not necessarily sail with the same kite as an experienced one, and a freestyler will not have the same kite as a waverider. There are several types of kite shapes today and the surface area of a kite ranges from 2.5 to 18 m², although the most common range of use is between 7 and 12 m².
How to manage my kite quiver ?
First of all, think about your safety on the water and adapt your kites to your level, do not overestimate yourself. The higher your level, the more you will be able to go out in stronger winds of 25 knots and more, or in the waves, or even looping higher and higher.
To start, a versatile, stable and easy to use kite without too much power will do the trick, in particular the range of kites which are called hybrids or bow kites. Adapt the surface of the kite to your weight. For example, a 60 kilo kiter will not use the same size kite as a 90 kilo kiter. Start with 2 kites in your quiver, if possible from the same brand, preferably for riding in winds between 15 and 25 knots.
Ideally, lighter weights kitesurf with 6 to 10 m² kites, intermediate weights with 8 to 12 m² kites, and much heavier weights with 10 to 14 m² kites. Before buying any equipment be sure to check the local weather conditions, as the equipment used will not necessarily be the same from one region to another.
For more experienced kitesurfers, using a kite which is bigger and more reactive than a beginners kite (1 m² more) allows them to go faster and to jump higher on a flat or slightly choppy sea. There is no point in choosing a kite with too much surface area either, as the wind can increase while you are on the water, and it is of course best to avoid potential accidents.
Nevertheless, as your kite level increases, your quiver will tend to get larger. The desire to ride in all wind conditions will be felt, whether in 12 knots or 40 knots, so you will need at least three kites.
Which kite for which discipline and conditions ?
Whether you like flat water for speed or freestyle, or you are a wave addict, the shape of the kite and its size will be different since the conditions will not be the same.
A beginner kitesurfs on freeride conditions, i.e. flat or with chop. A kite that re-launches easily and goes upwind well is the right tool. There is no point in getting a kite with too much surface area or too little, so make sure that your kite has a minimum of power to move forwards without struggling.
Most kites are suitable for new kiteboarders. However, it is wise to opt for a five-line kite because it is safer. Also, avoid riding with a C-shape kite (too much power and reserved for experts).
The freestyler will need power in a four or five line kite, often with five battens. The kite will have to be powerful and more nervous in order to support him as much as possible, and to be able to do kite loops at any time. The C-shape is best suited to the freestyle kiteboarder who has acquired a good technical level.
A wave kiter will choose a round kite with three battens, lighter and more rigid, but not too big. Depowering quickly in wave conditions is essential, so a kite that is too powerful will not be necessary since on the one hand you are already using the power of the wave to surf, and on the other hand you are going downwind once on the wave.
Speed and racing lovers have kites that will to upwind as much as possible, and with a maximum speed in the open sea to go downwind. Note that the speed riders´ kite must have a larger surface area than all other kitesurfing disciplines, which helps it to navigate in an often irregular wind and thus to pass through the wind holes.
Finally, kite foilers have to make a more technical choice to allow them to navigate, or rather fly over water. A larger kite than other kiteboarding disciplines, and often a box kite, or traction kite, with a large surface area is the ideal option since these kiteboarders sail in light winds most of the time.
What is the ideal kite size for kitesurfing?
As you can see, there are a lot of important parameters to consider before going kitesurfing. Body weight and level of the kitesurfer, wind strength and type (regular or irregular), spot conditions, desired discipline (freeride, freestyle, waves, speed, foil). All of these factors are to be considered for a perfect kite session.
The shape and size of the kite will be a major common asset for a beginner to an expert. Safety and staying alert are paramount to a comfortable ride. Don't choose a kite that is too small or too big, read the outside elements, and on your kites, get-set, GO !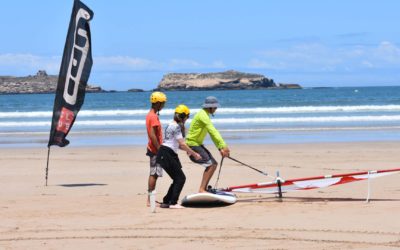 Windsurfing courses in Essaouira - which club to choose?Morocco, and in particular Essaouira and its surroundings, reveals many spots for surfing enthusiasts. It is difficult to get bored after surfing, kiting or windsurfing as the city, formerly called Mogador, a...