Kitesurfing
became known at the end of the 90's, well after windsurfing, and became really popular at the beginning of the 21st century. Today there are about 200,000 kitesurfers worldwide, with a good number of beginners learning the sport which has now become so much more than just a fashionable trend.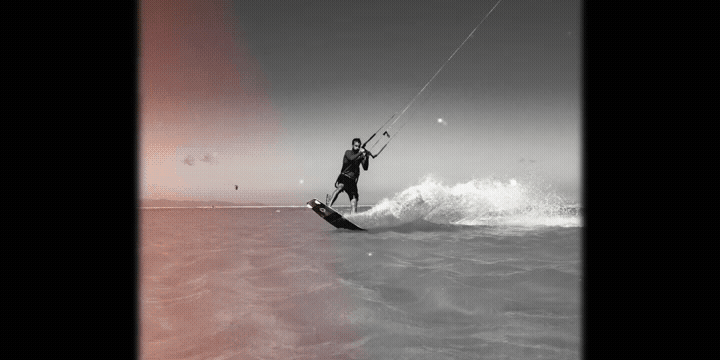 Is it OK to start kitesurfing without a course?
Learning to kitesurf is always achieved through having lessons, whether learning with friends who are already experienced or at a kitesurfing school. Safety is not to be taken lightly before, during and after any session.
The advantage of starting kitesurfing with a certified instructor is that he will be able to teach you the correct safety rules. That's why ION CLUB centers offer many different kitesurfing packages on the best spots of the planet, whilst always taking great care of their students.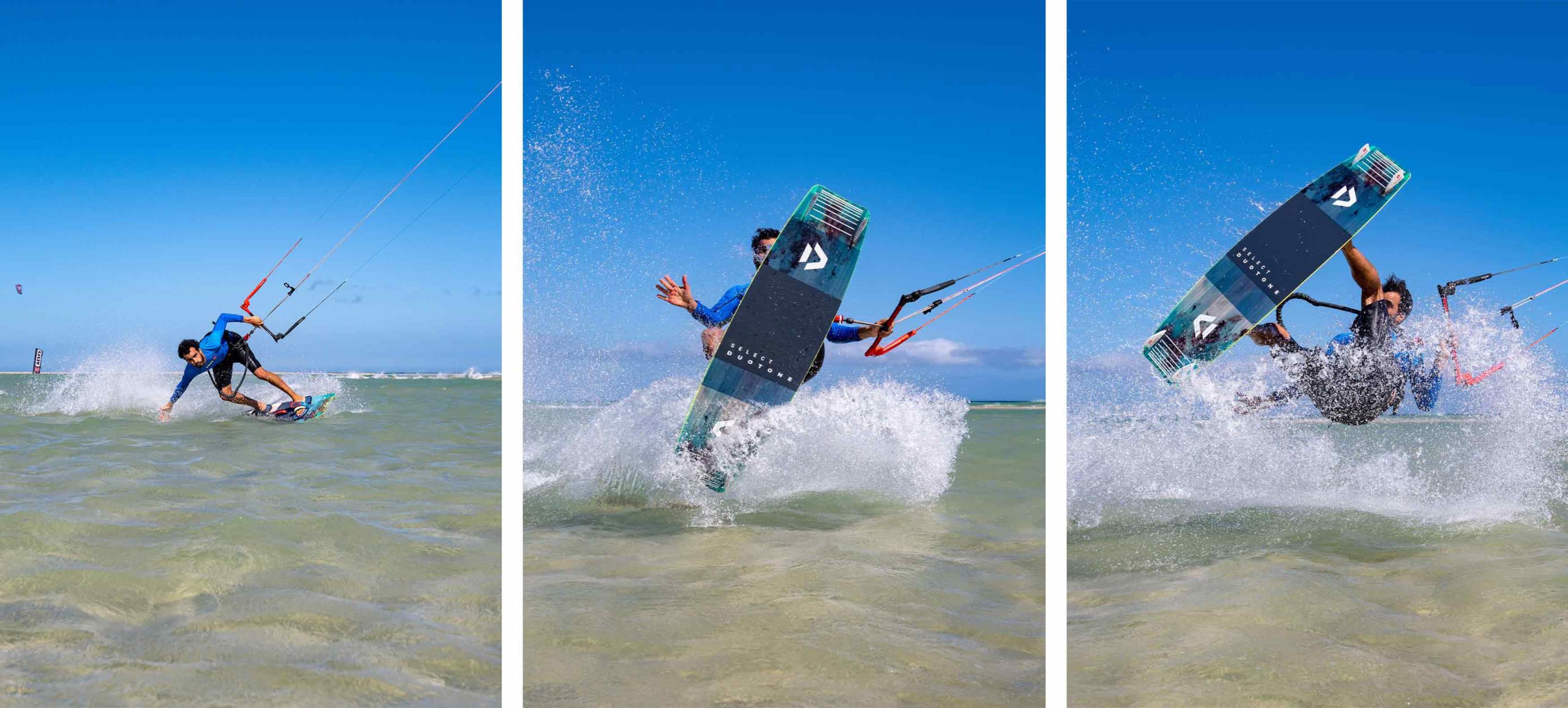 The fundamentals of kiteboarding will be taught by your kitesurf instructor who will know how to lead you to progress at your own rhythm, and without cutting corners. Depending on the weather conditions and your own physical condition, the instructor will adapt the kite equipment to suit your requirements. 
Accidents can happen at any time whether you are on the beach or on the water, and especially if you don't know your equipment and if you underestimate nature. Taking a kiteboarding course at a recognized kitesurfing school is your insurance to become an accomplished kitesurfer, while respecting yourself and others, and taking into account the essential safety rules.
How does a kitesurfing course work?
After the kite instructor has given you the safety instructions regarding the wind strength and direction and also your equipment, the first kiteboarding lesson will take place on the beach in order to learn kite handling.
These are the important basics before going out to have fun riding. Don't be mistaken … even if a kite looks a bit like the hobby kites you may have flown as a child (or older), these kites have much more power! Hence the importance of having a harness to help you control the kite.
The next phase takes place on the water and now you will start practicing the "body drag". Body dragging is flying the kite while being immersed fully in the water with feet off of the ground … literally allowing the power of the kite to drag you through the water! The front arm acts as a rudder in the water, and the kitesurfer keeps his eyes firmly on the kite, steering with the other hand on the bar.
Then comes the long awaited moment … the waterstart! Basically using the power of the kite to pull you up to standing on the board. Starting by lying down in the water with eyes on the kite and feet in the straps, fly the kite a little into the power zone to allow the body to be lifted out of the water onto the board!  Sounds easy right?!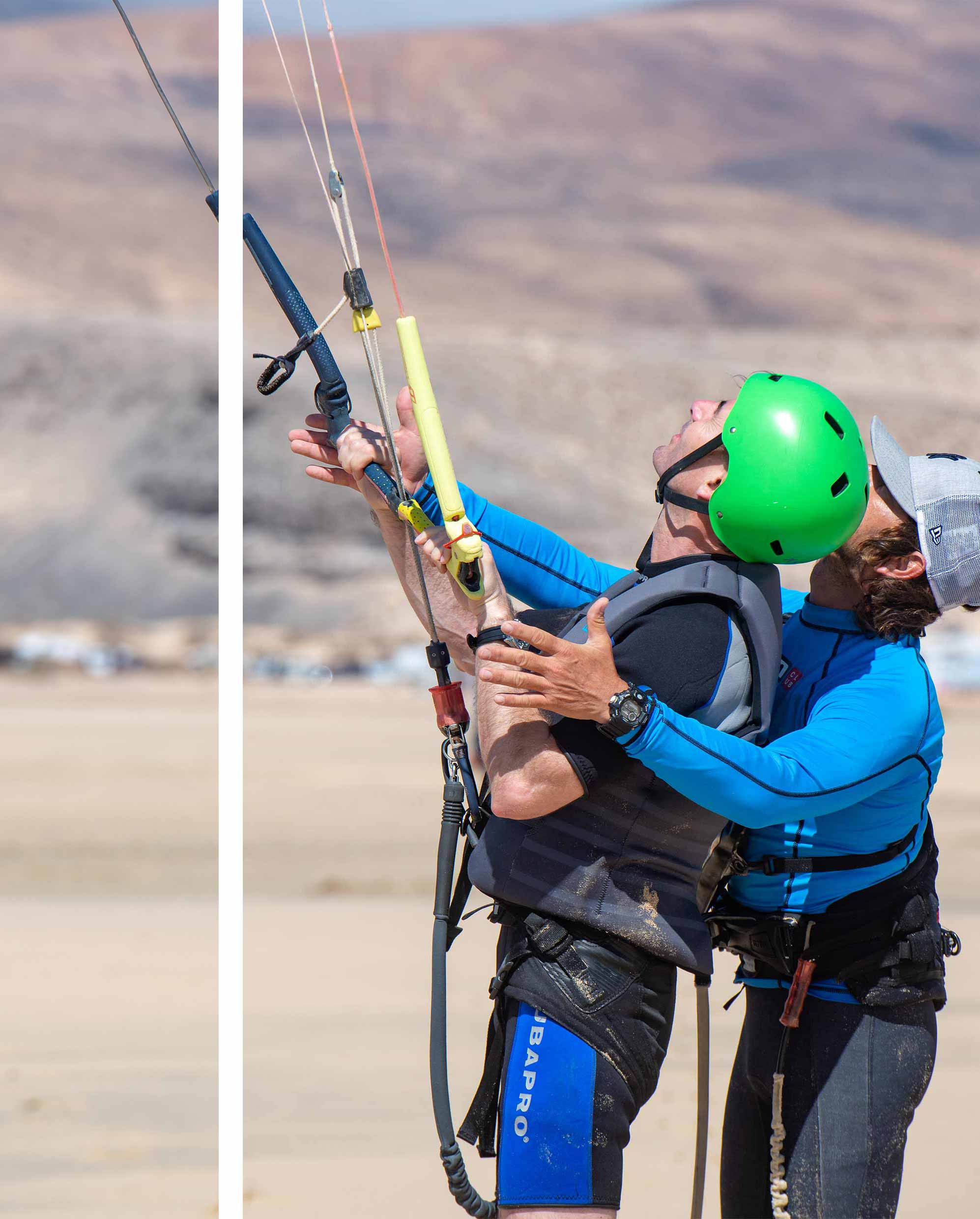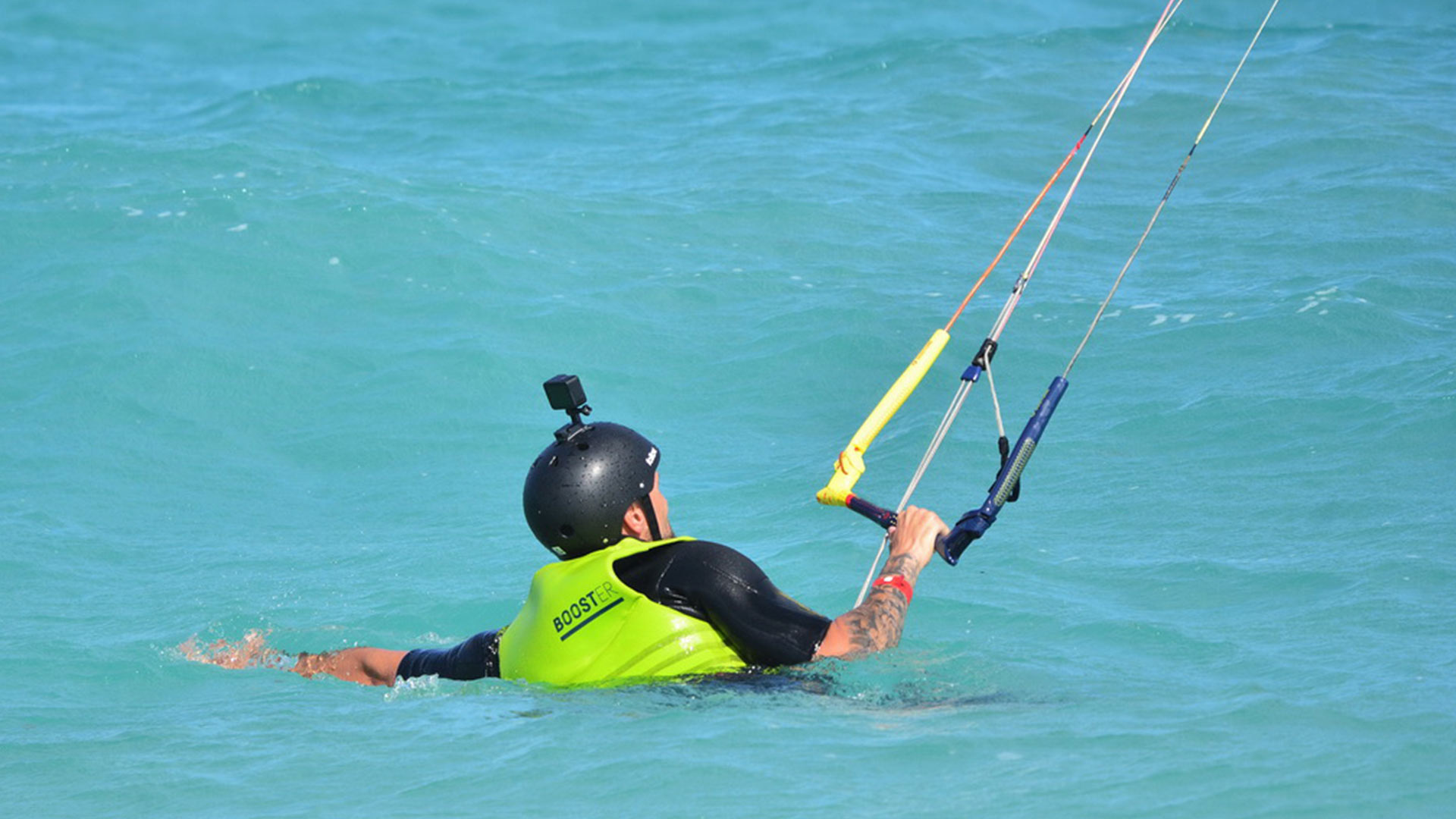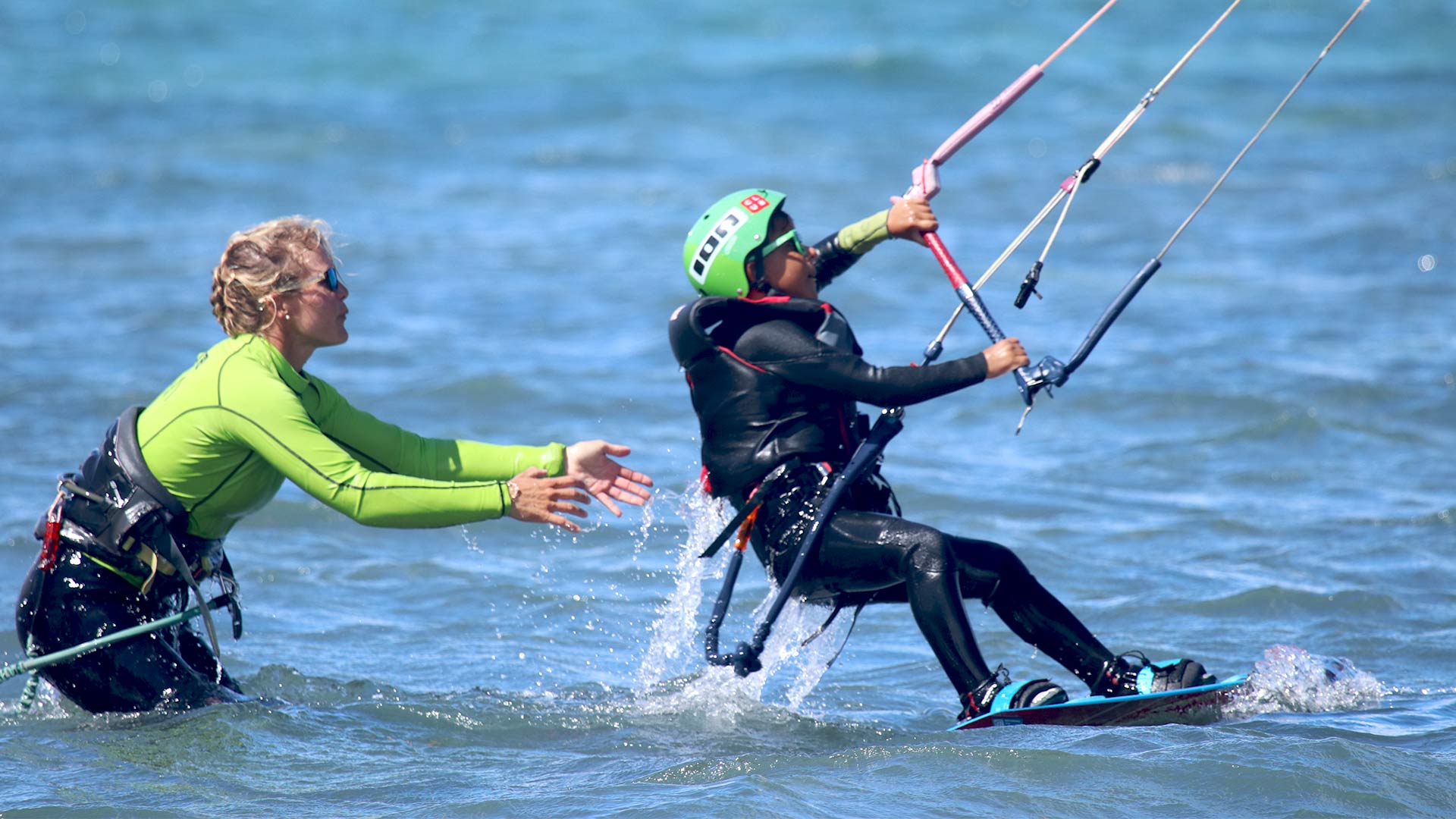 Your first runs may not be perfect, there is a lot of trial and error but they will be the first real sensations of becoming a kitesurfer.
You will need to become proficient at making your way back to the beach! It is important to master the flying and steering of your kite as well as the water-start, because once out in the open sea nobody is safe from dropping their kite. Maybe you are alone when this happens.
Fortunately, the advantage of going to a kitesurfing school is that many instructors teach either with walkie-talkies or have a motorboat, which is the case in the ION CLUB centers that take student safety very seriously. 
Knowing and understanding the direction and strength of the wind should allow you to come back to the starting point and this is why riding upwind is another very important skill to master.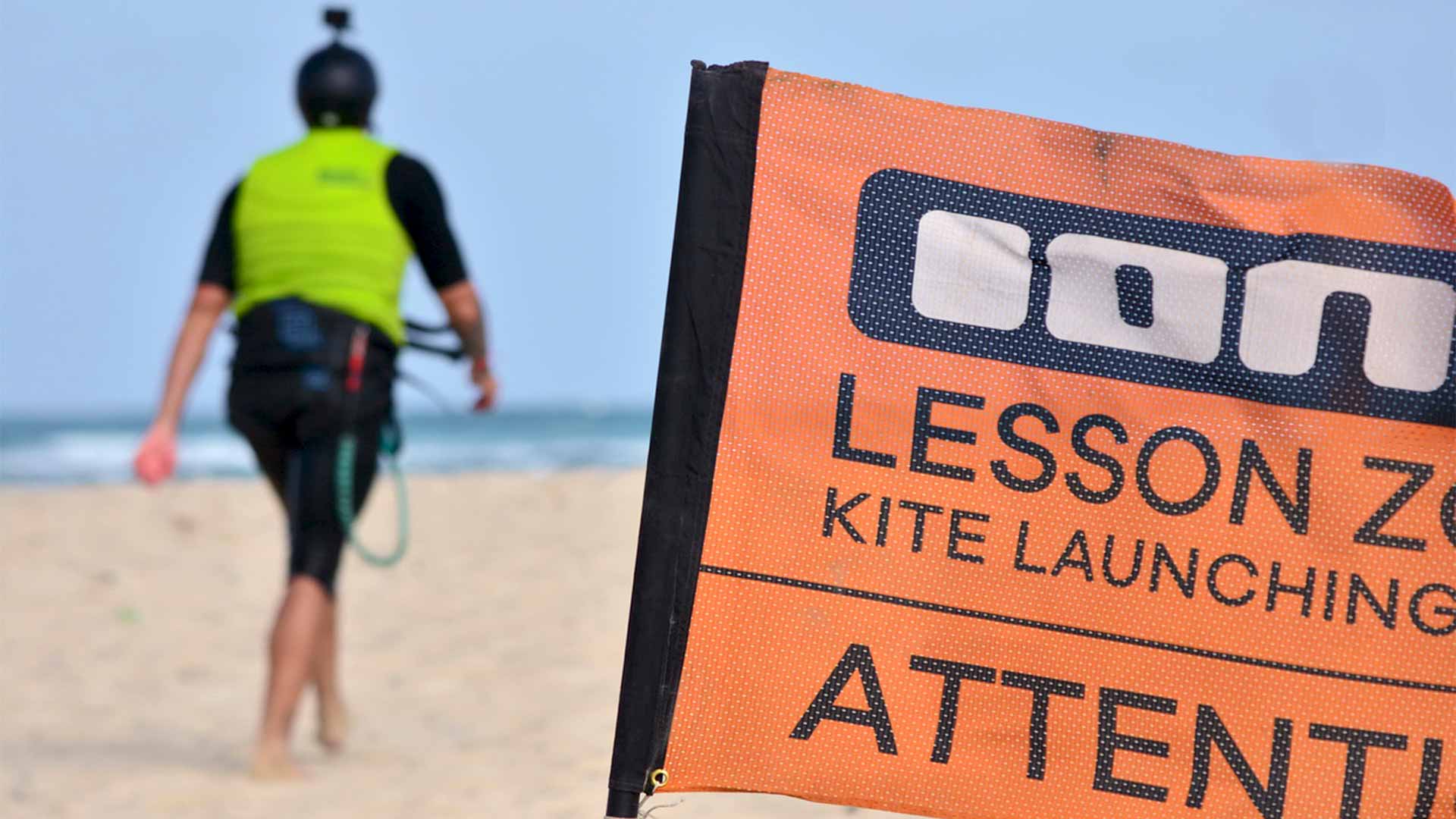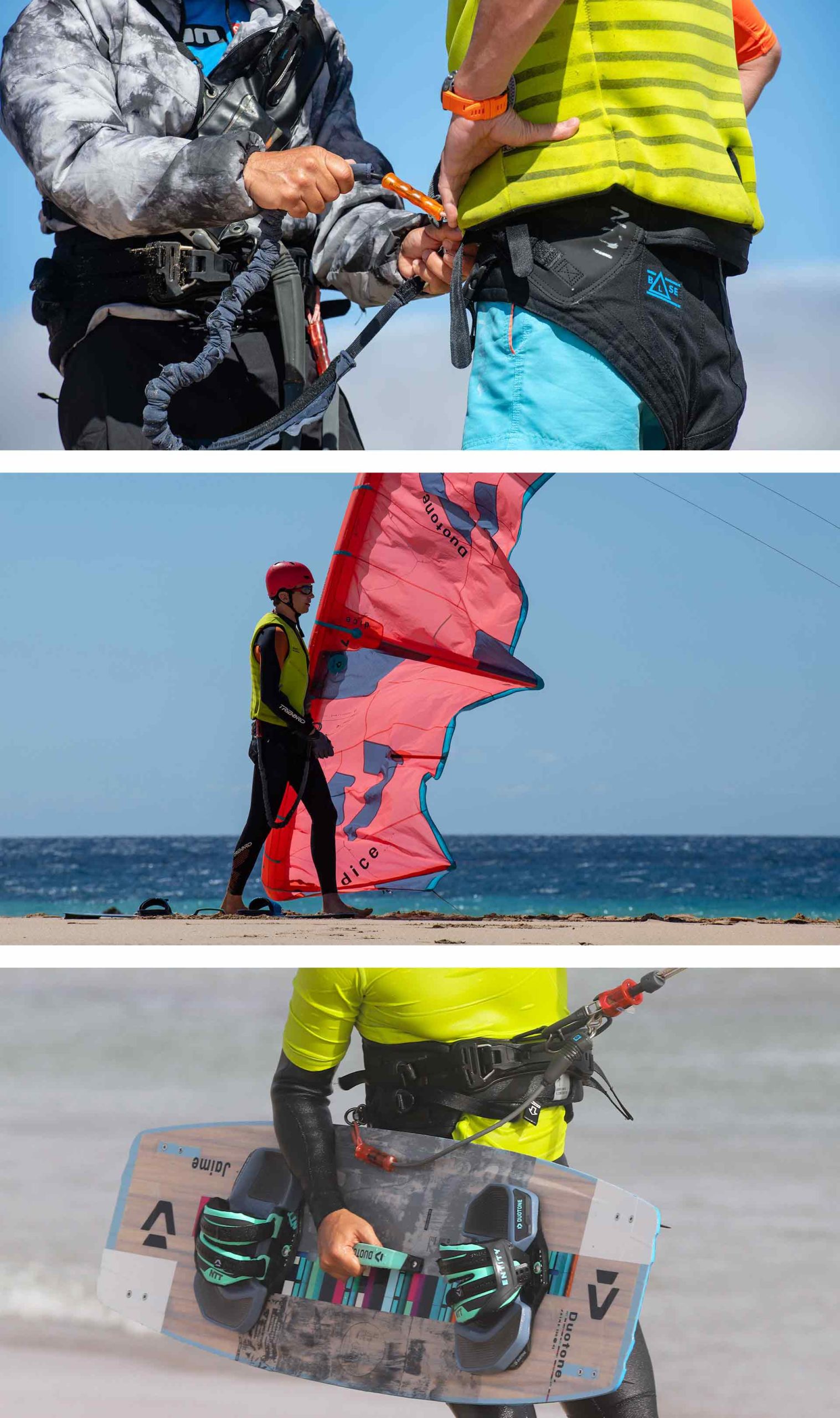 What is the price of a kitesurfing course ?
The prices to learn or improve kitesurfing are quite similar throughout kite schools. However, they will be different if they are group lessons of 3 or 4 people, semi-private lessons, or individual private lessons.
Count around 115€ for a 2h kitesurfing lesson in a group of 3 people or more.
For a semi-private lesson of 2 hours, the price is a little higher, but you will progress faster because the instructor will only have 2 people to manage. The average price is 130€.
If you are super motivated and have the desire to become independent in kitesurfing quickly without neglecting safety, the price will be around 175€ for 2 hours.
The prices are as high as the quality of the lessons at ION CLUB thanks to qualified instructors, very good up to date equipment from Duotone, and of course beautiful kitesurf centers located on superb kitesurf spots.
What kitesurfing equipment should I start with ?
The choice of kitesurfing equipment is very important in order to begin and to progress well. Choose a wide and long twin tip board, a rectangular shape without front or back and 4 symmetrical fins on each side under the board.
The surface and shape of the kite are also a crucial choice. When you start out, choose a kite that corresponds to your weight and size, usually between 8 and 12m², so that you can sail in 15-20 knots for your first runs without an instructor.
For the shape, choose a delta type wing, less powerful, more stable and easier to relaunch than a C shape wing. Of course, you should have a kite bar and lines, and not forgetting a harness, wetsuit, booties, flotation jacket and helmet.
What are the best kitesurfing destinations for beginners ?
Choosing a kitesurfing spot may seem simple enough, but several other elements should be taken into account. Assess the wind strength during the period in which you will go riding, alongside the water state and the sea bed which are also to be taken seriously. Not forgetting the school with whom you will spend time to learn and understand the essentials that any kiteboarder needs, and who will teach you the different levels of kiteboarding.
ION CLUB centers are based for the most part on the European and non-European Atlantic coast, except for Mauritius and the Dominican Republic which are further away. ION CLUB has chosen to locate their centers on beautiful spots which have kiting areas which are ideal for the first kitesurfing steps, and to evolve with ease in the sport.
They have also of course taken into account the more experienced kitesurfers, who are looking for strong sensations to challenge themselves in waves, or the more powerful winds for jumping.
To start in summer or winter, go to Morocco and head for the lagoon of Dakhla, or for Lassarga or Essaouira. Why not Risco del Paso in Fuerteventura, Tarifa in Spain, or Safaga in Egypt, Cabarete in the Dominican Republic, and of course stunning Mauritius with ION CLUB centers based in Le Morne and Anse la Raie.
Then there is the Golf de Roses center in Spain, open only in summer, and the island of Sal in Cape Verde open only in winter. Plenty of choice!
There are so many other kite spots to discover and learn at in Europe and around the world.
The most important thing is supervision, sufficient wind (between 15 and 20 knots), and flat or almost flat water. The depth of the water can be a factor to consider as some prefer shallow standing areas, whilst others may prefer a spot with deeper water.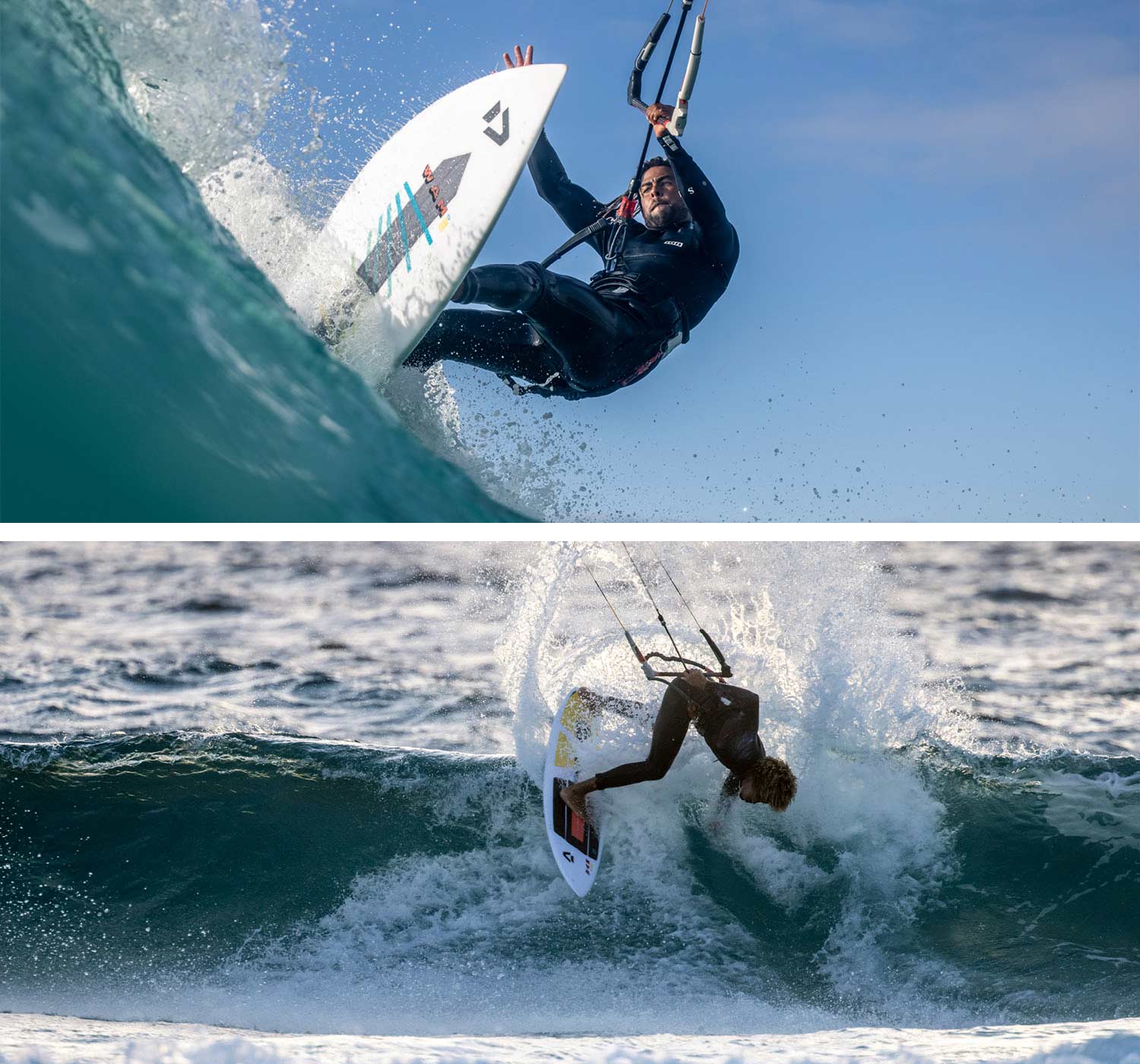 How long does it take to become a good kitesurfer?
Reaching a good level in kitesurfing can be quick for some people and slower for others. Steps in the right direction are to listen to your instructor, don't rush into things and don't overestimate yourself!
Progress will be made by listening to advice given by qualified kite instructors, observing the water without neglecting the environment, and of course through regular practice and water time!
You can claim to become more or less independent in 12 hours of kitesurfing with the help of an instructor and in private or semi-private lessons. However, be careful, being independent after a few hours of training does not mean you´re a seasoned and experienced kitesurfer.
When you can easily start, go upwind and come back to the starting point without dropping your kite, while respecting the safety rules without endangering yourself or the others, then you can start to call yourself a kitesurfer! 
Kitesurfing has become a sport that is really accessible to a large number of people. Ask for information from centers and tour operators specialized in kitesurfing trips in order to choose your destination and ensure your happiness!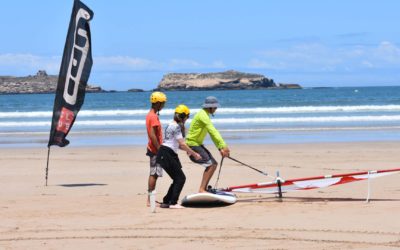 Windsurfing courses in Essaouira - which club to choose?Morocco, and in particular Essaouira and its surroundings, reveals many spots for surfing enthusiasts. It is difficult to get bored after surfing, kiting or windsurfing as the city, formerly called Mogador, a...