Wingfoil or windfoil, the differences
What exactly is a foil? Even if the word isn't immediately easy to understand, its use is fairly straightforward. This sort of fin or daggerboard allows the board to fly above the surface of the water. Simply put, the foil lifts the board a few dozen centimetres into the air.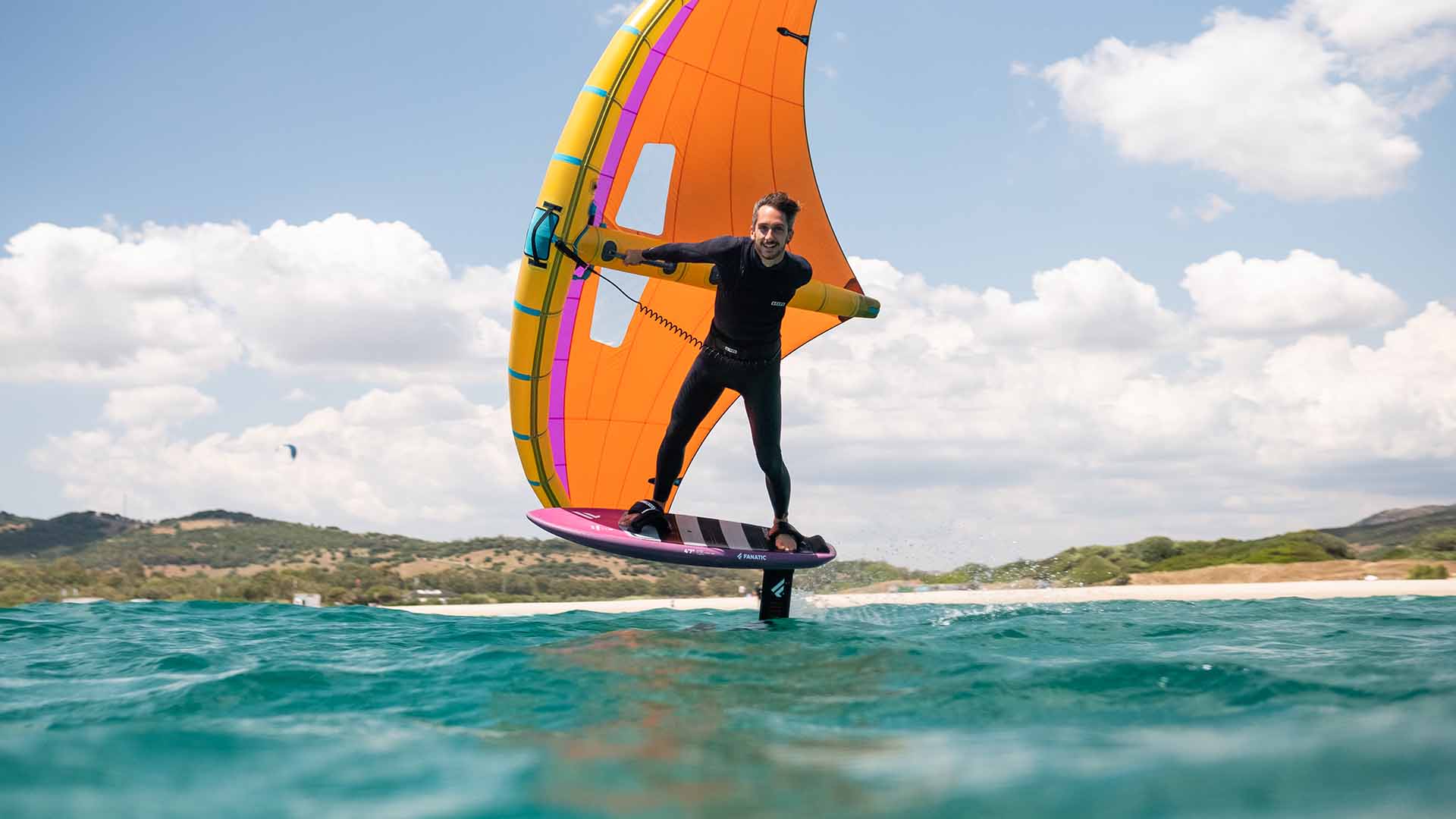 Windfoil for windsurfing enthusiasts
Introduced in the early 90´s by an American pro-windsurfer, windfoil – or windsurf foiling – was not recognised until the early 2010´s. 20 years earlier, the foil was very heavy, being 100% aluminium and weighing 8 kgs, which meant the windsurfer could only fly if towed by a motorboat. Today however the motor is both the wind and the sail. Windfoil is a derivation of windsurfing – like kitefoil in kitesurfing – meaning steering and manoeuvring using your rig, i.e. mast + boom + sail. The balance, speed, and manoeuvres are trickier, because at 30 or 40cm above the surface of the water, things ae a little different! Without good knowledge and practice of windsurfing, it's almost impossible to get going on a windfoil. Knowing how to land in the event of a fall is also preferable, since a foil can potentially hurt your legs and body. Windfoils allow you to continue windsurfing at mid-height, in light winds, and at very high speeds. 
Wingfoil, a trendy new discipline
Wingfoil, the new kid on the block when it comes to board sports, and the latest progression, appeared at the start of 2019. It's a sport that is definitely here to stay, because once you've tried wingfoil and made your first runs – or rather first flights – it's hard not to become addicted! It's windsurfing 2.0 in a way, the new generation of windsurfing crossed with a slight mix of kitesurfing and all things foil. The set up consists of a wing which is held directly with your hands, a wing board with a volume of around 120 litres to start with, decreasing as your level increases, and last but not least, a foil under the board. Wingfoil has attracted and continues to attract many top-level windsurfers and kitesurfers, sometimes even leaving behind their all-time favourite sport of windsurfing or kiting to play above the water, rather than on it. With a wind strength of 12-13 knots the best riders will be able to fly, although you'll need to use your arms more and start pumping … but let's face it, the ideal conditions for wingfoiling are when the breeze is close to 20 knots. The advantage here is that there's no mast to hold the sail, which makes the rig – which isn't a rig at all – so much lighter and easier to handle.
Wingfoil vs windfoil: which one to choose?
Wingfoil and windfoil are 2 new discoveries in board sports since the 2010´s and can be practiced in light wind, but that doesn't mean that they are similar in terms of both technique, and the sensations felt by the rider. In fact, wingfoil doesn't necessarily require the skills required in board sports or sailing in general, whereas windfoil is only accessible to windsurfers who already have a good or even very good grounding in windsurfing. In wingfoil, a good level windsurfer or kitesurfer will learn and progress much more quickly than a beginner in water sports or sailing, but with good advice, training and perseverance wingfoil is accessible to all.
The sensations are different too, with windfoils allowing the rider to glide very early on, with the best doing it at less than 10 knots (thanks to pumping), and the speed in stronger winds is mind-blowing. If you're a speed enthusiast, windfoils are for you! The wingfoiler can also go fast, but not as fast. With a wingfoil, you can glide around the water with your friends or your partner, surf the swell with your front hand loose, do some pretty freestyle tricks, go for it in the waves, do downwinders – in short, there are many different ways of practicing wingfoil, but speed doesn't have to be a priority.
If you are passionate about windsurfing and swear by this fabulous activity, the windfoil is for you! Also if you want to go even faster and make long, beautiful jibes. Having a windfoil and windsurf at the same time gives you more sailing range, as you can now sail from 10 to 45 knots more or less. However, make sure you have enough room in your car or trailer, because windfoil boards are bulky – bigger than a wave board – and a foil takes up more space than a fin, as you can imagine! As for the rigging, don't neglect the mast, boom and sails, which take up more space than a wing. 
The advantage of wingfoil in terms of equipment is that it takes up much less space and is easier to transport. There's the foil, yes, but the wing fits into what looks like a rucksack, and the board is shorter. Above all, there's no mast to support the sail, and no boom except on certain brands or models, which remain small and ultra-light.
Once again, the wind ranges for taking out your windfoil and wingfoil equipment are very wide, although it does require a good level of practice in light or very strong winds. Limited when the wind starts to blow the sand, windfoils can be used on the water in very light to moderate winds. Fortunately, that's when it's time to sharpen your favourite fin and switch into pure windsurfing mode. As for the wingfoil, the most addicted who are equipped with wings of less than 4 m², or even 2.5 / 3 m², are guaranteed a great time!
You're on a wave spot but you're unlucky that day as there's no wind at all, so don't forget to bring your paddle, because with a wingfoil board you can SUP foil – stand up paddle foil. It's more complicated with a windfoil board, because it's wider and heavier, but some brands now offer all-purpose foil boards. The foil is a real revolution in the world of surfing today, whether in windsurfing, wing, kite, dinghy, sailboat … everybody is talking about the magic of the foil! Get into it, you'll love it!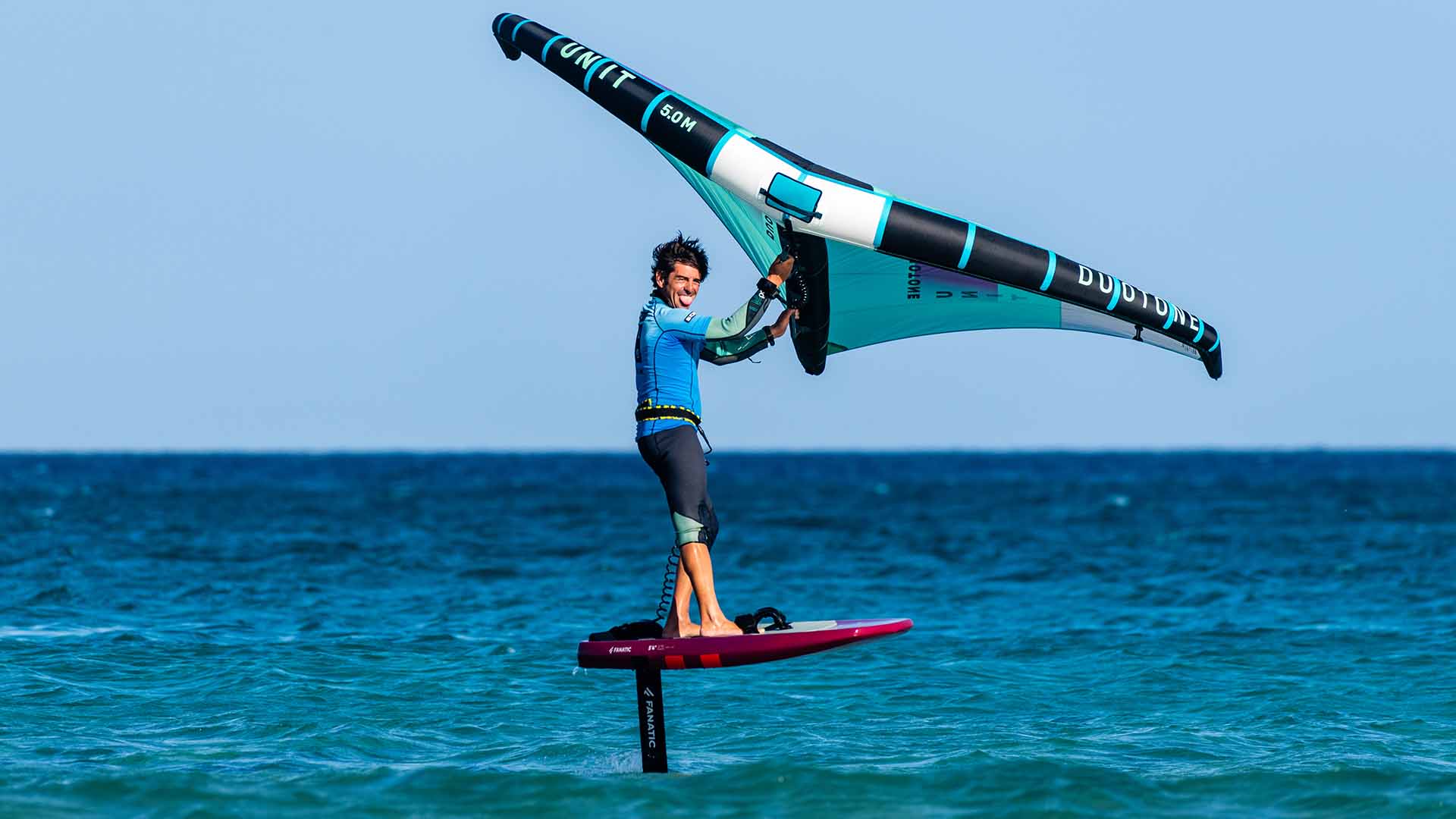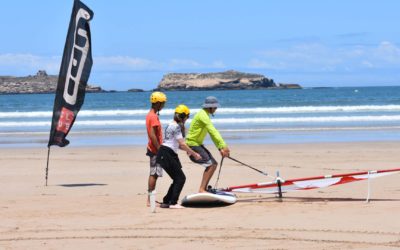 Windsurfing courses in Essaouira - which club to choose?Morocco, and in particular Essaouira and its surroundings, reveals many spots for surfing enthusiasts. It is difficult to get bored after surfing, kiting or windsurfing as the city, formerly called Mogador, a...