Egypt offers many beautiful sailing spots for kitesurfers, especially near Hurghada. Safaga Bay is one of the most prestigious and well known of these spots, located on the Red Sea, only an hour's drive south of the airport.
How do I get to Safaga?
Several airlines offer flights from Europe, and some charter airlines fly directly to Safaga. The easiest way to get there is to check with a travel agency specialising in kitesurfing.
On the other hand, regular airlines such as Turkish Airlines, Pegasus or Egypt Air offer flights with a short stopover in Istanbul or Cairo several times a week. It is therefore possible to be in Safaga in a few hours, especially as the journey from Hurghada airport to Safaga is only about 50 km.
Safaga hotels or travel agencies will be able to arrange a shuttle for you, or you can take a private taxi from the airport. Don't forget the visa, which can be bought in advance or on the spot.
Where to stay in Safaga ?
Safaga has the advantage of welcoming many kitesurfers for a short or longer period.
Some hotels are only a few minutes away from the ION CLUB Kitesurf Safaga and from the local magic spot. The advantage of kitesurfing in Safaga is that the spot will never be overcrowded as the number of accommodations is limited.
The kitesurfing spot and the small town of Safaga are about 3 kilometres apart, so you can still enjoy your favourite water sport on this beautiful, long beach.
The Shams Prestige (5* / adult only) is the closest hotel to the spot and also one of the most comfortable in the area. Also the Shams Lodge (4*) is not far away, and has a more affordable rate.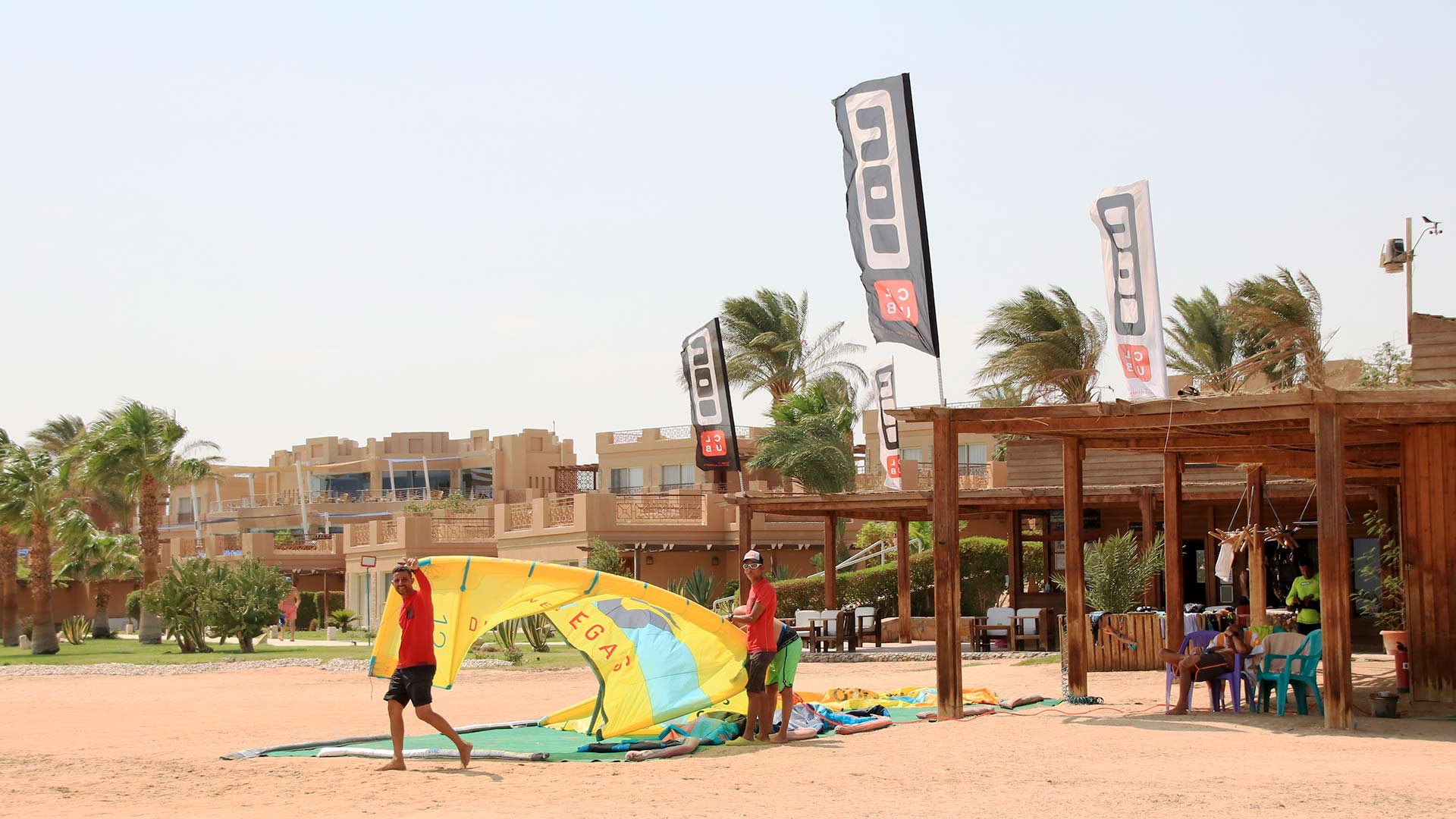 What are the kiting conditions like in Safaga ?
The ideal season to ride the Egyptian turquoise waters is definitely from March to October inclusive, especially thanks to the thermal wind that reinforces the local wind. However, the ION CLUB Safaga kitesurfing centre remains open almost all year round, every day from 8.30am to 5pm.
In the morning, the wind blows mostly side-offshore on the port side, so left foot in front of the beach. Then it becomes more regular and turns slightly side-shore at the beginning of the afternoon, often increasing to more than 20 knots or even much more depending on the day.
The water is perfect for beginners to improve their kitesurfing skills. As for the rest, there is nothing better than to kite on flat water or a light chop with a temperature of around 30 degrees in summer. A full wetsuit is definitely not necessary for your Red Sea holiday in the high season.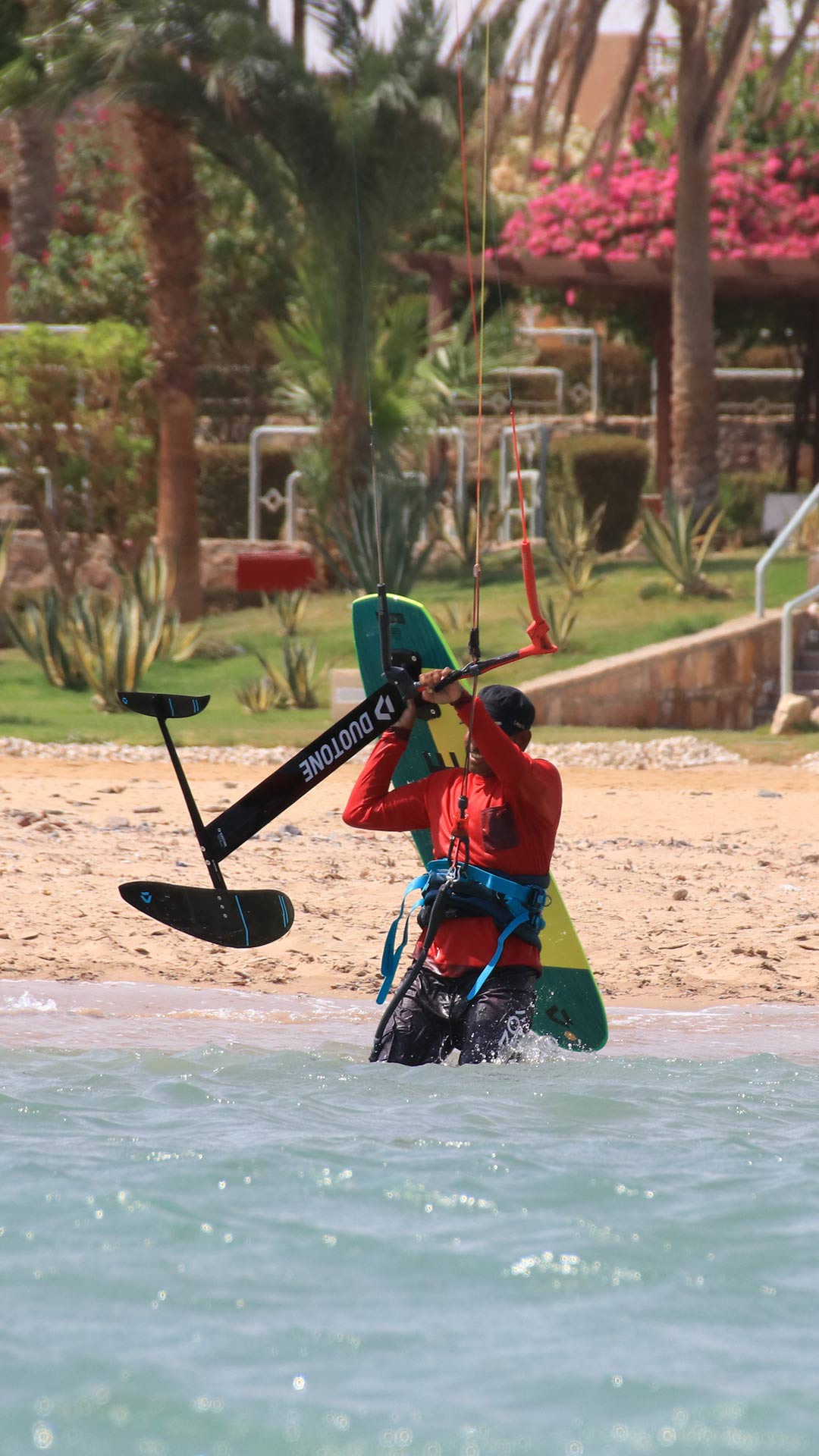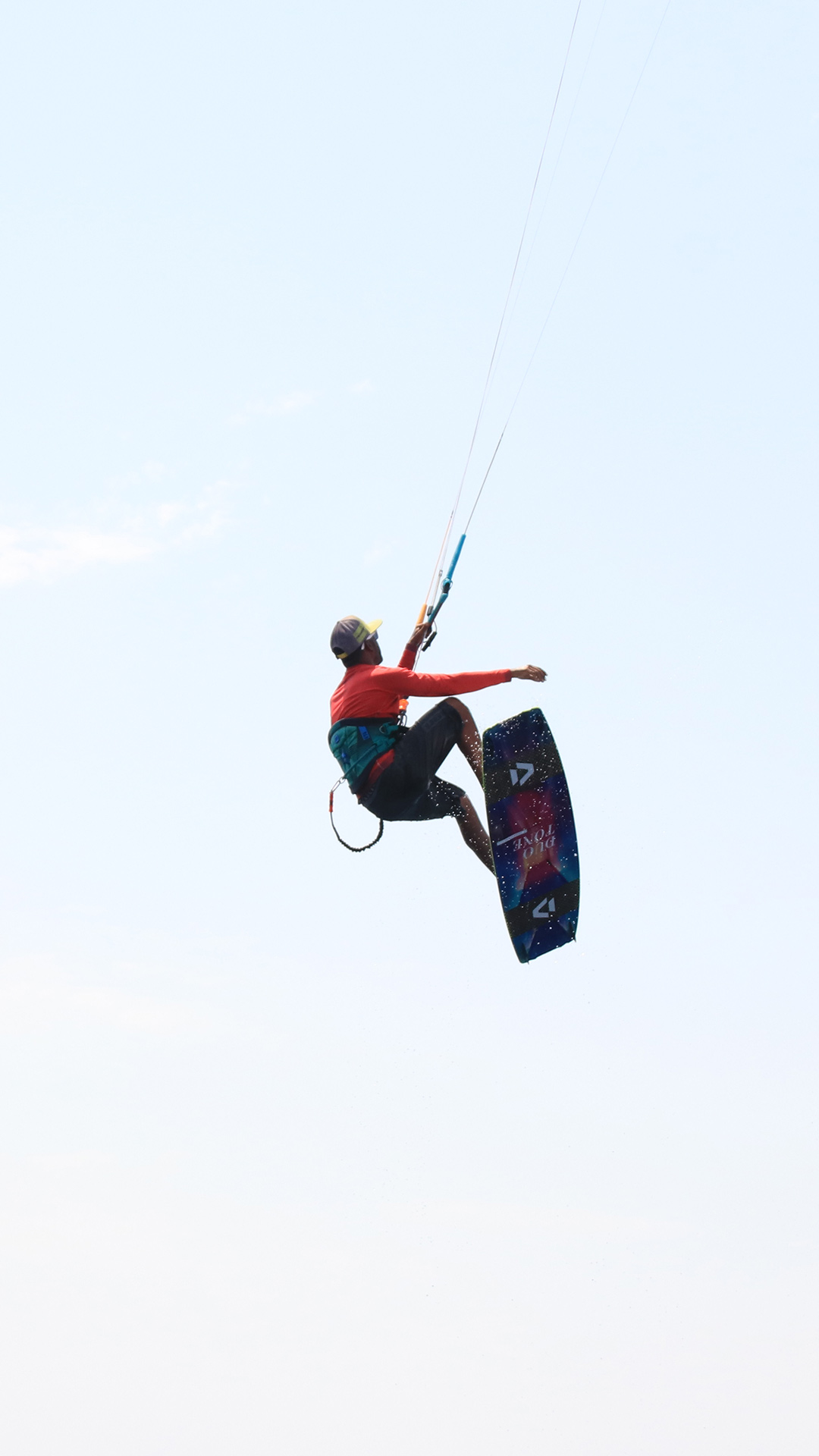 What is the ION CLUB Safaga kitesurfing centre like?
As in many kitesurfing destinations on our planet, ION CLUB has chosen to set up in Safaga, one of the best places in the world to offer kitesurfing to beginners as well as to intermediates and advanced.
No having to worry about heavy logistics during your holidays. ION CLUB Safaga offers courses for all levels, in groups or private. Kitefoil or strapless coaching is also available for the more adventurous.
Those who come without equipment can rent the latest Duotone kiteboarding equipment, kites and boards, and of course accessories such as harnesses or ION shorties for winter sessions. Finally, the centre provides storage boxes for riders who have brought their own equipment, with pump and rinse facilities on the premises.
The vigilance of the club during your sessions is one of the many assets of the local centre. The instructors are all experienced and know their spots inside out and will give you excellent advice on choosing the right kite size or kite spot on a daily basis.
To satisfy many of our dear ION CLUB members, there are two other kite spots in Safaga, very close to the main spot.
Which spots to kitesurf in Safaga ?
The kitesurfing spot in Safaga, located on the main beach, is ideal for a stay without moving around too much! Just a few steps away from your holiday home, you can alternate between napping, chilling out and, above all, kiteboarding. The blue water and easy conditions are waiting for you. However, not far away, the spots of Tobia and Soma Bay await you!
Tobia is a small, unpopulated sandy island surrounded by the Red Sea and translucent water that looks like a marine paradise. Tobia is only 4 kilometres away from ION CLUB Safaga. With shallow water and flat sea, the lagoon here is an incredible spot for kitesurfing.
The more famous Soma Bay beach, about 7 kilometres further north of Safaga, is also a dream spot for kitesurfers of all levels. Perfect for kitefoilers as the water depth is much greater.
To get to these great spots around Safaga, the ION CLUB centre offers regular downwinds and drops. For those who need lessons, the kite school will take you there if the wind conditions are more favourable on certain days.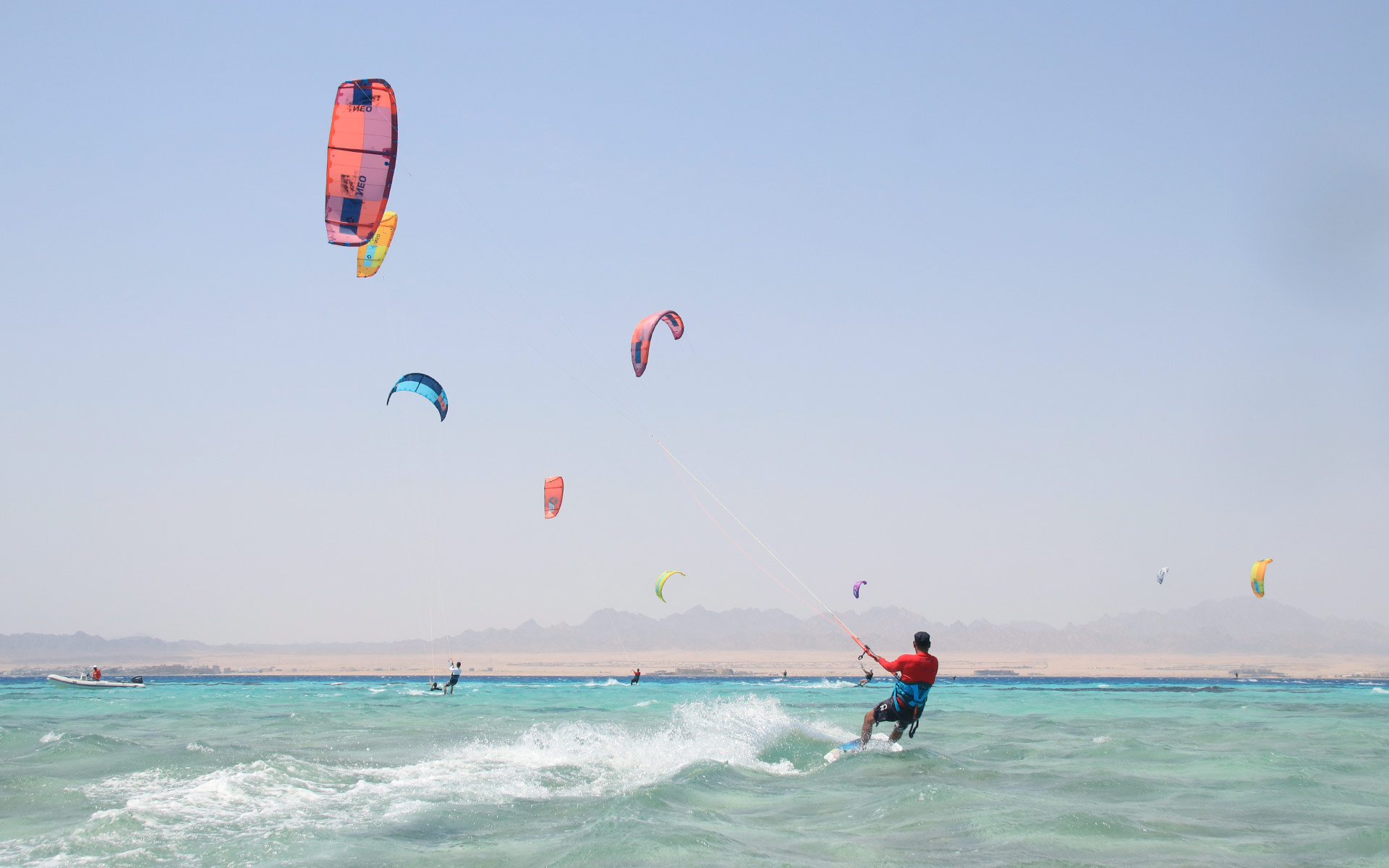 Will I have a good kitesurfing holiday in Safaga ?
Egypt, especially Safaga, is a destination known by many windsurfers since the 90's, and also by kitesurfers since the early 2000's.
Freeride and freestyle are on the agenda, which is why many talented kitesurfers return every year.
Today, the love of this spot remains unchanged for many water sports enthusiasts, but also for scuba diving or simply snorkelling, with a giant natural aquarium only a few meters from your Egyptian holiday home … or a few hours by plane from your usual residence.
The climate, with its year-round pleasant air and sea temperatures, easy conditions and steady wind make the destination a magical place that is impossible to miss in a lifetime.
If you add to this the smiles of the Egyptians and the ION CLUB team, don't hesitate to come, Safaga is made for you, whether it is with your family, your partner, your friends or even alone.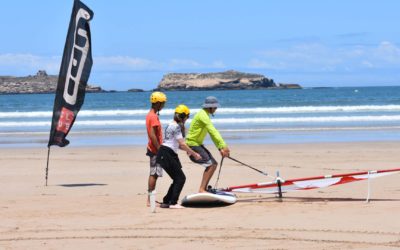 Windsurfing courses in Essaouira - which club to choose?Morocco, and in particular Essaouira and its surroundings, reveals many spots for surfing enthusiasts. It is difficult to get bored after surfing, kiting or windsurfing as the city, formerly called Mogador, a...